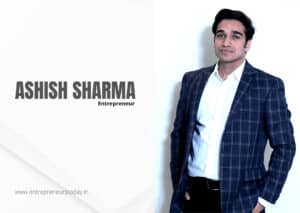 Ashish Sharma Entrepreneur – The Sharma business began almost half a century ago when J.B Sharma established his first sheet metal fabrication facility in New Delhi under the moniker, Hari Engineering Works. , his previous employer, being impressed with his work ethic, made him the R&D head of one of their own divisions, producing amplifiers, before he raised seed funds in his personal venture. And so began the business that has grown through the intervention/association of 3 generations of family, to be currently heralded by Ashish Sharma and two of his siblings.
J.B. Sharma used his background in the mechanical sector to his advantage and started designing and manufacturing precision sheet metal products. This niche has been subsequently expanded to include specialist equipment like mobile phone lockers, key cabinets, laboratory furniture, industrial, and institutional furniture, along with air ventilators, and oxygen compressors.
Ashish Sharma, J.B's grandson, had grown up in an environment where discussion of business matters was commonplace. So the desire to join the family institution was ingrained in him from the very beginning. In order to prepare himself for the inevitable responsibility, he pursued a B. Tech degree, alongside a Masters' in product designing, from India, and subsequently joined a major electronics MNC as a production engineer. However, after working there for a year or so, he decided that it was time to join his family's business, and put his knowledge to the test.
Although he has been working for Hari Engineering works for a total of seven years, Ashish states that the first couple of years he spent figuring out the intricacies of the business. After all, there is a marked distance between the sanitized knowledge provided in the classrooms, and the practical know-how required to implement it in reality.
In the meantime, his father and uncle, who had been in charge of the business following J.B, had expanded production to include server racks and inverters. Hari Engineering Works had established a technical niche in the market and was known for their prompt service and quality product. With Ashish's inclusion in the business, the expansion took a further step, the business being expanded with the establishment of sister concern, i.e., Shri Hari Industries. His contacts in the corporate world brought a series of new and esteemed clients, including his old employer, who became one of their biggest buyers.
Shri Hari Industries is currently running three plants in the Delhi NCR region and constructing its 4th manufacturing plant in ECOTECH-XI. Greater Noida, Shri Hari Industries has been a One-Stop Office and Lab Furniture Manufacturer and Supplier for the better part of several years. SteelBull, their famed metal furniture brand has been supporting multiple MNC corporate projects with furniture and storage solutions, heavy duty lockers, laboratory furniture, filing cabinets, and avant-garde compactor storage. Ashish's technical knowledge has helped speed up production, with a renewed focus on designing sleeker products. Cutting edge technology, like Japanese CNC plants, and Laser cutters have been installed in the factories to help with faster, precise, and efficient cutting of sheet metal into desired shapes.
As our discussion veered towards the impact of the pandemic on their business, Ashish clarified the kind of clients they serve. Most of their work is B2B, providing products to industrial giants across the country as well as the world. Their customer forte includes the government sector, PSO's embassies, BPOs, telecommunication giants, and the healthcare and education market. They also work with the hospitality and education sector, almost forty of whose laboratories have been furnished by Shri Hari Industries.
Read More: Gluten and Glory: Annika Dhariwal Crusade Against Celiac Disease
However, it was the medical sector that helped the business stay afloat through the difficulties of the pandemic, as the demand for hospital furniture, air ventilators, and oxygen compressors remained constant in the fluctuating market.
Though production had to be re-planned during multiple lockdowns that punctuated most of the pandemic period. Many unskilled workers were unable to travel to the main plant in Noida and returned to their villages, despite the quarantine measures put in by the government, during the mass labor exodus of 2020.
Nonetheless, Ashish remains fairly optimistic about the further growth of the business, projecting an increase of a hundred to one fifty percent in income for the coming years. His main focus will consequently be on the production of mobile phone lockers, labs, hospitals, and storage equipment, rightly assuming very little fluctuation in the demand for such items.
Ashish's confidence is heartening to see in such dire economic conditions and his enthusiastic projections of profit rouse faith in his technical knowledge and industry contacts. He smiles and reiterates that business is in his blood and bones, having been raised by entrepreneurs. The only way to ensure continued success is to be consistent in quality and behavior, and he intends to keep those ethics intact throughout his tenure as the newest scion of the Sharma family.
Follow: Linkedin | Facebook | Instagram | Website | SteelBull