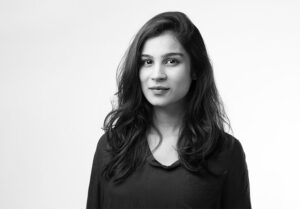 Khyati Trehan is a prolific young designer from India, whose unique sensibilities have put her on the map. And her diligence, passion, and creative ambitions have let her explore different mediums and styles, and allowed a series of high profile clients and partners.
Her initial public recognition as a skilled and gifted designer came in 2013, while she was still an undergraduate student at the National Institute of Design (NID) in Ahmedabad. She had uploaded a project she had completed for school to a creative social media platform called Behance. The project, named 'The Beauty of Scientific Diagrams' colluded her skills as a designer, and her contemporary fixation with the history of science and mechanistic development.
A complex series, finished within a mere eight weeks, the project involved selecting each letter of the alphabet, assigning a scientist's name to it according to their initial, and presenting their work diagrammed through the lines of the letters.
Read More: Gluten and Glory: Annika Dhariwal Crusade Against Celiac Disease
The innovative idea, and its serene and methodical execution found a well deserved appreciation, and coverage, from various outlets, and began a career of diverse work.
Since her graduation from NID, she has worked with Samsung, Indian Type Foundry (ITF), Codesign, and Munich based design consultancy IDEO, while her individual clients range from the Academy of Motion Pictures, Apple, Instagram, and Snapchat.
Her achievements in the world of 3D modelling and design have secured her a spot in Forbes India's 30 under 30 list of creative individuals. In its video preview, she discloses a bit about her process. She reveals a tussle between her inner artistic instinct, and the inspiration she gathers from the outside world. As she works, there is a dialectic friction between these two spaces, which is expressed in the end products.
A glimpse through the nature of her designs reveals this duality very well. Her 3D sculptures are distortions of everyday objects into unusual shapes and patterns. She retains the texture of reality, and plays with our preconceptions about how they bend and move. There is also a fascination with symmetric patterns and lettering, which returns periodically in her projects.
One of her most ambitious projects has been designing augmented reality 3D filters for snapchat's AR spectacles. Called Spectacle 3, Khyati Trehan has whipped up a veritable spectacle within it, introducing virtual objects that interact with the reflection of the real world. It is perhaps the most technologically astounding representation of what Trehan eloquently calls 'making meaning with 3D'.
Her zeal and skill have been lauded by most of her employers and co workers, and the result is available for all of us to see. As her star rises, we hope to see more of her work, and make new meanings out of the items and patterns we have been living with for the longest time.