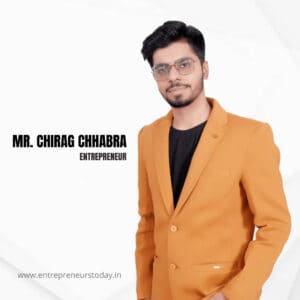 Meet Mr. Chirag Chhabra, a very practical and knowledgeable person. He is just 20 and has a lovely personality. He hails from New Delhi. His age is just 20 but what he achieved is very commendable. He is pursuing his graduation. He dreamt of becoming the top businessman of the country. But as every middle-class person, he also has financial constraints. But he took the step and started to think about his own business. He was very passionate about business from his childhood. He loves to read about billionaires and inspired by their journey.
He wanted to support his family and himself too. So he decided to start his own business.
In 2019 he started learning new skills about marketing and he used it in his business. Today he is a leader in the industry in terms of achievements. His main goal is to provide high-income skills to the people. He wanted to change people's life and mindset. Today he is running a very successful business where he teaches the youth about entrepreneurship and how to start and sustain a business. He teaches about entrepreneurship which is not present in our school textbooks. He is helping many young entrepreneurs with his learnings and guidance.
When he started initially it was very difficult to make people understand the business. But he worked very hard. And today that hard work is paying off. In just 2 years he earned a profit of more than 1 crore rupees from his business. Today he is mentoring more than 1000 people and helping them to achieve their dreams. He made his family members feel proud by achieving great success. And now he is working harder.
He helped more than 1000 people to start their business through Social Media with his Mentorship program. His ultimate goal is to generate more than 1 million entrepreneurs. He and his team are personally mentoring the young people so that they don't waste their time and do something productive.
He also loves helping people in monetary terms. He helps poor people with food and clothes. He helps needy children with books and food.
Chirag shares that time is changing at a rapid rate. So you need to upskill yourself accordingly. So that you always have an edge. And there should be 1 core area where you must have a specialization which will tremendously enhance your earning potential. Keep learning new skills and keep exploring new opportunities.
Chirag Chhabra is a successful digital entrepreneur today and is guiding approximately thousands of people. If you too are entangled in your life, how to find and work on a new opportunity in this great time. You can message Chirag Chhabra on his Instagram.