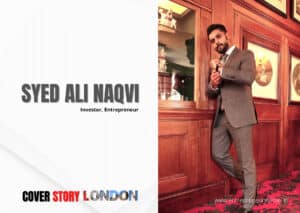 As an entrepreneur, Syed Ali Naqvi is his own brand. A native of Lahore, Ali Naqvi was not born in a prosperous family and experienced and observed poverty around him. A bright and intelligent young man, he had trained to be an accountant and sold his skills in the market for a while. But soon he realized that had put him in a predictable and safe personal and professional path. In an effort to break out of that stupor, he began a career in network marketing at the age of 27.
Despite lacking any mentor in the field, and being relatively new to the field, he quickly found success. A man fond of taking risks and keeping his finger in a lot of pies, his astute advice to clients allowed them to earn handsome profits, and he became known as a marketing genius.
His primary focus is on real estate and is partnered as a consultant with the London based property and management consultancy Citiends. But he is also a tech enthusiast and is a developer of games and an investor in the new decentralised variant of crypto called DeFi.
His variety of interests makes sense when we take into account his philosophy of mobility. Between indecision and a wrong decision, he prefers to choose the latter, knowing that it will help avoid stagnation. And so far that has benefited him on his business journey.
Read More: A Designer of Meaning: Khyati Trehan's 3D World
Eager to share the lessons inferred from his experiences, he consults new and eager entrepreneurs, making sure they have what he lacked, a trustworthy mentor in the market. He wants his rags to riches story to be an inspiration for the purposeful youth, urging them to be superheroic in their perceptions of self. While that may sound like an advocacy for overconfidence, Ali stresses that as a business person, one needs to have the ethics and principles of a philanthropist as well. He values honesty above all else and preaches the same to anyone who wants to follow in his footsteps.
He is a fitness enthusiast who believes that healthy mind requires a healthy body, and maintains a glamorous public persona, which complements the superstar status he has achieved within the industry.
All in all, Syed Ali Naqvi is a star on the rise, and he intends to take everyone with him.