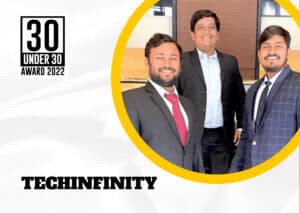 Techinfinity 30 Under 30 
How to provide an all access digital marketing under a single brand umbrella?
Introducion
In the year 2016, three partners, rather three friends, Hemant Shah, Ronak Parikh and Omkar Pai lead themselves on the ambitious journey of entrepreneurship. Fresh out of their engineering minds, they discovered themselves as nascent entrepreneurs to a website development and web design agency named "Techinfinity" which was registered under GfxBandits IT solutions LLP. However, their passion to actualize a full-fledged digital marketing business potential against all odds was limitless and impeccable.
There were numerous obstacles and driving forces encountered by our entrepreneurs along the way, but Techinfinity was much ahead of the curve in its aspirations and dedication. And within no time, the three turned tables, flourishing a 360 degree full-fledged marketing agency with core expertise in SEO, Performance marketing, Social media marketing and more.
Rocky Road
On this journey of dreams, came an exciting turn of events for Techinfinity that intended an opportunity of pivotal growth for the brand. It was the Startup India Initiative where Techinfinity participated along with 300 other startup contenders to represent the emerging startup group of Maharashtra. Moving forward, Techinfinity represented Maharashtra Small Scale Industries Development Corporation (MSSIDC), ranked among the Top 120 startup groups and got a chance to showcase the brand at IITF, New Delhi.Standing tall, Techinfinity ranked among the Top 60 Startup Leaders, representing Maharashtra at Magnetic Maharashtra Symposium.
And taking this entrepreneurial mechanism to its extreme peak, Techinfinity raised flags and adorned this victory by getting featured in the coffee table book which was launched by our former Chief Minister of Maharashtra, Devendra Fadnavis in the year 2017.
Impact
From seizing every chance in making dreams come true to building an emergent empire, Techinfinity has indeed come a long way! And today, it proudly positions itself as a potential leader in the digital marketplace with clients like Indian Navy, KFC, Reliance, Orra Jewellery, JK Shah Classes, Sterlite Power, ZoloStays, Yes Bank and many more. A startup initiated with a team of 6 individuals and a 300sq.ft space to an emerging winner with a team of 42 young and dynamic minds and a 1200 sq.ft office premise.
The hassle for the three have never been easy but their dedication to initiate, drive and sustain the entrepreneurial journey until the opportunity is completely transformed to a potentially rewarding endeavour speaks of sheer inspiration to the world.
7 years into this entrepreneurial journey, they've learnt, improvised and grown a lot and over the next 7 years the brand along with its dynamic team dreams of international expansion, representing MNCs alongside national and local brands. And underneath it all, they want to continue fostering the humanist values that have fuelled their ambitions and aspirations so far!