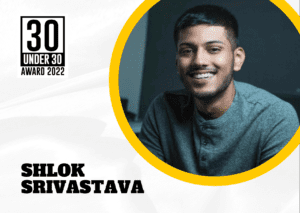 Shlok Srivastava 30 Under 30 
How to find value in the overpopulated tech influencer space?
This wasn't a question Shlok Srivastava was asking when he first began making tutorial videos on using and improving technological items. But years later, as the owner of Burner Media, and recognised better as Tech Burner his online moniker, he has inadvertently answered the question.
Shlok claims he was not very good at making videos. But it didn't stop him from continuing to fiddle with the art from his childhood. When he first started making videos during his college days, it was an amateur operation that he had no intention of expanding into an empire.
Humble Beginnings
As a student in SRM university, Shlok started using his father's laptop to film and upload how to videos that explained the use of cell phones, apps, softwares, etc. The laptop was a  batty little thing that was perfectly functional. However, the quality of his videos were limited by the machine's shortcomings.
This did not deter him from making these videos. He was enthusiastic about technology, had knowledge to share, and his viewers, who were mostly his technologically handicapped friends, were responding positively to his videos.
What worked in Shlok's favour over the years was an unflappable optimism and a willingness to listen to his audience.
With the changing landscape of content, Tech Burner diversified their approach to video making. The language and format underwent a gradual change. Videos became shorter with an emphasis on humour, and a shift to Hindi as the narrative medium.
Impact
Currently, Tech Burner's YouTube channel has more than 7 million subscribers, and boasts an average viewership of 50 million per month. So in basic statistical terms, their impact has been huge.
But Shlok is not an avid player of the numbers game. He has always shied away from tailoring his videos to algorithmic demands. Instead he sources his inspiration from the people whom this algorithm is made to serve.
A socially conscious individual, Shlok has his finger on the pulse of the masses, aware of how alienated the urban milieu is from the majority of the country. It is his aim to bridge this information gap through his company.
Burner Medias already hosts two websites and about five apps, and is looking to expand their operations. Shlok is thus extremely obliged to be featured in Forbes India's 30 under 30 list, sure that it will help widen his sphere of influence.
His ambition is to make the most complicated elements of technology accessible to the common people. Things like crypto currency and block chain would be explained in layman's terms, in regional languages, so that the everyday individual may be versed in its intricacies.
This is an attempt to democratise the elitist tech space, which inadvertently keeps a vast section of the population out of its feedback loop.
In this way Tech Burner is trying to provide value to their consumers. As Shlok says himself, there will always be someone funnier out there, with videos of a higher production quality. But what makes his approach popular is the sincere respect he has for the people he is trying to serve.