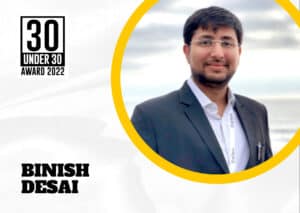 Dr Binish Desai 30 Under 30
How to eliminate waste and create an eco friendly existence?
This may be the single most important question of our age, and Dr Binish Desai started asking it at the tender age of 11 years.
We are living in a world that has been overrun with waste and pollution. And while corporations are pushing the agenda of individual carbon footprints, it is hardly enough combat the sheer magnitude of waste produced at the industrial level. And there is very little we are able to do to affect that.
But Dr Desai has refused to be discouraged by the enormity of the task. He has set up his own company and launched multiple different initiatives to structurally combat the production of waste.
So how does he do that?
Ideology and Innovation
Binish began his experiments with waste management as a kid. His first subjects were chewing gum and paper, and the limited knowledge that he had gleaned from his education and surroundings. A perseverant youngster, he stuck to his conviction of waste being a man made concept. According to him, nature doesn't produce any waste.
So what does nature do?
Essentially, everything that is materially available from nature returns to it, nourishing back in one way or another. Logically, waste management had to take a similarly utilitarian approach.
To enrich his knowledge of the environment, he did his post graduation in environmental engineering, and proceeded to do a PhD in Environmental Science and Technology. Then, armed with enough knowledge to convince himself, and enough degrees to convince the rest of the world, he embarked on his journey of waste elimination.
Binish established the Eco Eclectic Technologies banner as the umbrella organization from within which he started working on the realization of his ideology.
The main aim of the banner has been to research and develop ways to utilise waste to produce more usable products that can be re introduced in the economy. The process curated by them has been christened circular economy, which builds on the recycle economy the world is currently trying to popularise.
To enhance the social aspect of recycling, through education and mobilization, another unique project has been launched by Binish, called Ida Eco Decor. The term Ida is a fitting linguistic exercise in recycling, as it has a variety of meanings in different languages, ranging from creation in Sanskrit to protection in Urdu.
Armed with it, the banner has set about recruiting new members to their cause, spreading the EETech gospel along the way.
Impact
The impact of Binish's efforts could quite literally fill a book, which author Nikhil Chandwani has managed to do. Dr Binish Desai's journey is available for everyone to read in his book The Recycle Man.
But we may attempt to do the same in a much shorter space here.
The real impact Binish has had is in the number of eco friendly products he has been able to launch that are made from 100% recycled material. This includes tiles, paver blocks, bricks, soundproofing material, and even toilets. It was while installing toilets in a village and educating the people about its usage that the Binish was approached by a widow called Tina who argued that with her three children and meagre earnings, ecological concerns were a luxury she couldn't afford. With this pertinent objection Tina inspired the Ida project, through which Binish has worked to involve women in the working economy, and help them be financially and socially self sufficient.
Utilising his eco friendly building material Binish has begun contributing to architecture and film and television sets. Additionally, with his own eco friendly marriage, Binish and his partner and EETech co founder Yashvi Binish Desai are hoping to popularise an alternate way to accomplish traditional practices.
Binish has been variously felicitated for his work, having been nominated for the Padma Shri, awarded the Rotary International Alumni Humanitarian of the Year for South Asia, and featured in Forbes' 30 Under 30 Asia edition for 2018.
However none of these have phased the man much. He continues to work tirelessly in his salon, where industrial waste is transformed into utilitarian innovations. After all, he does keep saying, There is nothing useless in this world. What might be a waste to you, is someone else's asset.