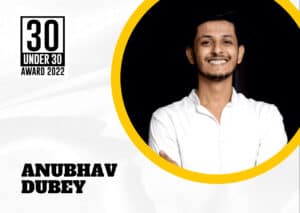 Anubhav Dubey 30 Under 30
How do you transition from UPSC to entrepreneurship?
If Anubhav Dubey is asked this question, he will probably just shrug his shoulders and smile it away.
Because, although he quit his pursuit of an IAS position to start Chai Sutta Bar with his high school best friend Anand Nayak, none of it was planned.
He was preparing for his UPSC exams in Delhi, when Anand invited back to his hometown, Indore. Things were difficult, and he wanted to begin a business venture with the 3 lakh rupees worth of capital he had scraped together from his family.
After brainstorming through a few options, they finally settled on tea as their primary product. After all, it is the most popular beverage in the country.
Hence began the journey of Chai Sutta Bar in 2016, which has grown into a massively successful pan Indian franchise, along with two outlets in Muscat and Dubai respectively.
Humble Beginnings
Anubhav was born, and spent his childhood, in the city of Rewa in Madhya Pradesh, to a lower middle class family. Over the years their financial situation improved, and Anubhav was enrolled in a school in Indore, where he met Anand Nayak, and quickly became firm friends. The two of them cooked up multiple business schemes, and had planned on capitalising on this acumen to start a legitimate business later in life.
The two of them accompanied each other to the same college to study Commerce, before graduating in 2014 and going their separate ways.
When the duo started Chai Sutta Bar in 2016, Anubhv's father didn't know that he had abandoned his pursuit of an IAS post. It was his father's dream that he was working to realize, and he was unable to reveal the truth to him.
The limited budget forced the friends to get creative. They sourced the furniture from second hand maskets, designed and decorated the shop themselves, and hand painted the sign. Situated near a girls' hostel, the cafe soon caught traction owing to their innovative name, quality product, and youthful aesthetic.
Business picked up speed quite fast, such that they were able to open a second outlet within three months.
Impact
Anubhav's father learned of his business venture much later, and didn't offer any comments. A reserved and old school man, Anubhav was naturally afraid of him. But when he was invited to present a TED talk, elucidating his journey, he mustered the courage to invite his father along. At its end, the old man tearfully embraced Anubhav for the first time in his life. He knew then, that he had found success.
Chai Sutta Bar currently boasts 145 outlets across the nation, out of which 5 are owned by the company, while the rest are franchised expansions. From their humble beginnings, the company has now become a giant in the Food and Beverage industry, with a turnover of 100 crore rupees.
Anubhav credits his parents for teaching him the practical knowhow of money management, and the zeal to continue against difficult times. Having weathered the uncertainties of the pandemic, he is ready to raise the bar even higher.