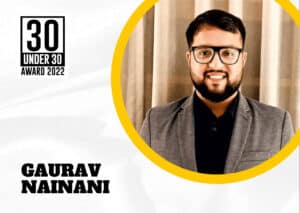 Gaurav Nainani 30 Under 30
How to combat serious health concerns with water?
Gaurav Nainani lost his mother to breast cancer at the tender age of 8. Growing up without her presence, he was often brought back to the moments he had cherished with her, and to thoughts of what he could have done to prevent the tragedy, had he been older and more capable.
But really, what can be done against the terrifyingly fatal force of cancer.
Gaurav had made a habit out of following new developments in the treatment of cancer. While pursuing such research he happened to come across the idea of alkaline water.
A chemical engineer by training, he was well aware of acids and alkalis, but had never heard of alkaline water as a product. It was, however, immensely popular overseas, and multiple consumer testimonies elaborated on its health benefits. It was also said to be effective in fighting cancer cells.
The gears of his head began to turn, and he was brought back once again to the time of his mother's untimely death. And he knew that he wanted to bring this product to India.
So he quit his secure, well paying job at Ernst and Young, to set up the first Indian company producing alkaline water.
Taking the Dive
The decision to quit his job at Ernst and Young was not easy. Especially in the financially volatile times we live in, he knew it was a risky proposition. And the journey was not smooth either. Over the course of setting up the business, he came close to quitting multiple times, disillusioned by the difficulties of the work. But he was bolstered in his decision by the belief he had in his product, and the memory of his mother. save life" part as it may sound as a too big a claim. It can relieve only.
Gaurav founded his brand Alkalen at the age of 24, having toyed with the idea since his engineering days. The ph level of the water was set between 8.5 to 9.5, so as to balance the body's acidity level and boost the immune system.
The pandemic acted as a sudden and damaging interruption. The distribution network fell apart due to the lockdowns, which was devastating for a fast moving consumer-good like Alkalen. The halt in revenue meant cash flow became unidirectional, which was difficult for such a bootstrapped business.
But Gaurav identified the opportunity in the situation. He started spreading awareness of the immunity boosting capabilities of the product and educating people about its effectiveness against virus infections.
It proved to be a very good decision, as the knowledge swiftly caught on amongst panicked citizens, and Alkalen became a staple immunity boosting mechanism for people who had access to it.
Impact
Alkalen is a pioneer in bringing alkaline water as a consumer product to India. Within a very short span of time, and with a small team backing the venture, it has caught the public's attention in a major way.
The brand currently has offline retail presence across 13 cities in the country. It is also available online in all the major ecommerce platforms.
Although its sales success is exciting news for Gaurav, he is really proud of the clinical impact that the product has had among its customers. The stories of reduced antacid dependency, drop in uric acid levels, and respite from ulcers and arthritis, are what motivates him and his team to keep moving forward with the venture.
Gaurav has big plans to make Alkalen the go to health and lifestyle brand across India's huge market, and impact as many lives as he possibly can.
He intends to make his mother proud.