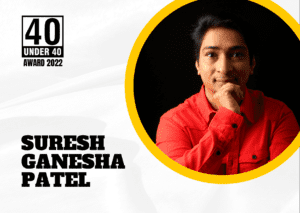 Originally from Sikra village in the Bhachau Taluka of Gujarat, Suresh Ganesha Patel was moved to Mumbai when he was only 5 years old. Born into a family of middle class farmers, the transition to Mumbai proved hard for them. a lack of funds and shelter plagued their early days there, as they slept on the street, under lamps, to avoid the rabid traffic of the nightlong city.
It was a while before his brother was able to avail a job at a grocery store, which brought them some respite from the relentless assault of poverty. All the siblings were diligent workers, and helped each other save money by sharing clothes and shoes, and reducing each other's work load by taking on extra shifts. They were still sleeping on the streets, outside the grocery store, after working till midnight.
Their first independent venture was a dry fruits store called SAMRAT. It was a small but ambitious first venture, and a sign of things to come. Over the years, Suresh Ganesha and his siblings expanded their repertoire of stores to a total of six, with different specifications for products and services.
This is his story of perseverance and success.
From Rags to Riches
Following their dry fruits venture, Suresh and his brother teamed up to launch Greenbell, a fusion and fashion accessories store directed for under 5yrs kids. The store was inaugurated by Actor Anil Kapoor, and was cause for much fanfare in the city. This venture instilled in Suresh an interest in the world of celebrity glam up, which he wanted to pursue as a profession into the future.
Coming from difficult circumstances, he was keenly aware of the importance of a support system. Thankfully, he had a close knit family who stood by him throughout his entrepreneurial ventures. He stuck to his goals, chipping away at whatever obstacles came his way, until there was room enough for him to pass through and reach the other side. His creativity flourished in an odd admixture of solitude and sociality, as his dreams flourished in the presence of creative and influential people, which he further fleshed out in his alone time.
Following the initial launch of Greenbell, Suresh came up with BABYBELL store  , which as the name suggests, was focused on kids fashion. As that outlet found success, he launched OPTIONS men's premium wear over the next few years. BOY LONDON was focused on international fashion, which Suresh had always been drawn to, and wanted to merge with the trends inspired by bollywood to create his own brand of fusion wear. Options Mall was directed at people looking to purchase premium wedding fashion and accessories, while MAML (Me and My Life) was a premium leisure brand that specialised in clothes aimed at informal occasions, with its line of SMART clothing becoming a runaway success.
Impact
Suresh Ganesh Patel's story of success is impactful in itself. His struggle, ambition, and dedication are inspirational to use an oft abused word in a very real sense of the term. It is also refreshing to see an individual come to terms with their creative and business side so seamlessly.
Various media outlets have honoured his efforts with awards. Midday recognised Options for its exceptional wedding collections in 2018, while Indian Saga recognized MaMl as a premium leisure fashion brand in 2021. In the same year, Suresh and his brother Dharmesh Patel were seen as Recognizing Achievers by The Economic Times.
But the feather on Suresh's cap is his self named designer label which is set to launch this year. He has already gathered a steady customer base serving famous actors, singers, and celebrity icons like Daggubati Venketesh, Sushmita Sen, the Ambanis, Shilpa Shetty, Govinda, Riya Sen, Armaan Malik, Sunny Deol, M.S. Dhoni, Terence Lewis, Sukhwinder Singh , Darshan Rawal, Kailash Kher, Sahil Khan, Abhijeet Sawant, Makrand Deshpande, Sajid Khan and many others. Thus, Suresh Ganesha design label is sure to find immediate and long lasting success based on the pedigree of his work alone.
Suresh is on his way to emerging as the leading designer and fashion entrepreneur of India, and he credits this rise to his instinct for delegation of duty, and a love and care for his family and friends. He seems to live with a shine in his eye, dreaming big and grand, with a knack or tempting fate and risking failure. And that has made all the difference.