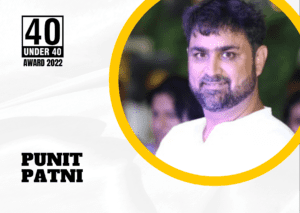 Punit is a manufacturer of Sanganeri Print Bedsheets and Home Furnishings under the brand names "Chaddarwalas" and "Sanganeri Craft."
He had just graduated from college and was only 22 years old when fell in love with some bed sheets he had seen in a factory.
Inception
With a degree in commerce, Punit moved back to his birthplace to help his father in his business and used to go with his father on business trips to export firms and textile mills. During one such visit with his father, Punit took interest in some bed sheets and bought a few sheets for his use because the lovely patterns enthralled him. What came as a surprise was that a number of his close friends and family members were impressed by the collection and wanted to know where he got them. That's when Punit had the idea of trading in bed sheets.
Around the same time, one of his father's clients experienced financial setbacks and was unable to pay his bills. So, it was decided that Punit and his father can take bed linens from the business valued between Rs 2.5 and Rs 3 lakh in exchange for the unpaid bills.
Through a consignment of bed linens, they got from a business that was on the point of bankruptcy, Punit and his father established Patni Enterprises in 2009 as a partnership.
A lesson Punit believes in is that it is only hard work that pays off. After graduating from college, he began his entrepreneurial career by selling to family members before deciding to explore the marketplaces of major cities like Mumbai, Pune, and Delhi.
He initially bought printed bed sheets from outside sources. Later, in 2014, he established his facility with hand-block printing and screen-printing equipment, the manufacturing unit is of about 10,000 square feet. In 2017, he established a second unit of 20,000 square feet, and currently they are also constructing a third facility, measuring 40,000 square feet, which is still under development.
At the moment, Patni only serves the Indian market, with Delhi, Madhya Pradesh, and Maharashtra as its three largest customers, followed by Bengaluru and Kerala in the South. He purchases the raw grey cotton fabric primarily from Kishangarh, which is close to Jaipur, and from the Tamil Nadu textile industry, specifically the Tiruppur, Palladam, and Erode regions.
Impact
Punit takes great pride in the fact that he is giving underprivileged artists from remote villages who are proficient in the ancient craft of block printing employment through his endeavor.
Punit invests the money he makes from selling the bedsheets back into the firm in the usual bootstrapping way. He hasn't gotten any outside funding up to this point.
From the inception of the company, the business has seen tremendous growth till now despite the setbacks. Patni Enterprises has reported a current turnover of more than Rs 10 crore. Additionally, with a 100% growth rate year on year, they have an online presence on all the main B2B and B2C portals.
Challenges and good fortune
Despite the great turnover, Punit had his share of challenges, when he first began his journey, he had to make a name for himself in a market that was already saturated with big players. Punit recalls another case when, in the early stages of his business, he obtained a sizable order from Calcutta that was supplied on credit, his entire investment went under and they took a big hit.
The pandemic breakout in 2020 proved to be another setback for his business. In April, May, and June, he claimed there were no sales, and they had to pay credit providers as well. Since their clients and distributors were likewise in a bad condition, there was no money coming in from them either.
The holiday season surrounding Diwali, however, opened the floodgates for them as things began to look bright and commerce started improving.
Punit claims that during COVID, China, a major player in the home furnishings industry, took a significant hit. Specifically in Ahmedabad and Jaipur, he claims, it has directly benefitted people like them since their retail traders stopped buying from China.
Considering how things are looking bright at the moment and the potential for business and the expanding Indian economy, Punit expects to have a medium-sized public limited company over the next seven years.