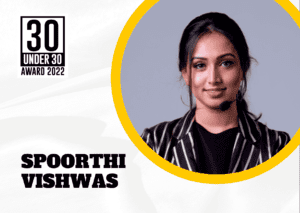 Spoorthi Viswas 30 Under 30
(Working with – Focus, force and fire)
How do you successfully pivot from an acting career to entrepreneurship?
Spoorthi Vishwas had always dreamed of doing the extraordinary. That belief made the universe bring everything she dreamed of and more to her. Everything fell into her lap like a big gush of happy surprises and coincidences, right from when she was chosen to be a host in Udaya Music at a tender age 16 to bagging a lead role in a star-studded movie at 18. Everything she attempted turned gold. There was no looking back for this young and beautiful star. She went on to host Zee Kannada, Colours Kannada, BTV etc. starred in 17 Kannada Films, 2 Telugu Films and 2 Tamil films. This actress, influencer and personnel branding expert has been a presenter in more than 1500 plus shows and addressed over 2 million people.
The glitz and glam of the profession, along with the chance to express oneself through a multitude of characters and contexts had been appealing to her from a very young age. This is the life the middle-class girl already wanted for herself.
While acting was an innate skill and gift, so was intelligence. She was always academically inclined and did well at school. Alongside been an A list actress, she also completed a degree in MBA. Her dream was to start something unique and extraordinary, and therefore to enter into the business world was not difficult for a woman who believes that to have a vision and goal in life in very important, else life is just one derailed journey. This passion is the cause for her transition and extreme success in both fields
Honestly, who among us has not dreamed of becoming a film and TV star?
Spoorthi however, was not content with simply dreaming of the future. She wanted to live it. and pursuing that reality she ended up enrolled in Subhash Ghai's film making school Whistling Woods in Mumbai. Her stint there was fruitful, and she shone as a capable and talented actress. And soon enough she was a sought-after actress in the Kannada, Tamil and Telugu film industries with a series of credits to her name.
But Spoorthi was not satisfied with this. Over her professional tenure she had become more cognizant of the gender disparity and biases of the world in general. While attending  several movie awards shows, the entertainment industry in particular she was very uneasy with the fact that some 'stars' always took the limelight while the real heroes were unsung.
She realised that there were hundreds of skilled women who worked tirelessly in the shadows, whose work, despite being impeccable and incomparable, never received the adoration they deserved. Spoorthi thus began her second innings as an entrepreneur and mentor, working tirelessly to bring unsung women achievers to the spotlight through the platform of KWAA – Karnataka Women Achiever's Awards. So, here is a movie star with a difference, who makes a difference!
Changing Course
Spoorthi began her joinery to stardom facing the camera and received great recognition and accolades for her contributions to both the small screen and the silver screen with the recognition of being a Young Achiever. As mentioned earlier her filmography was also extensive, with more than 20 films across the three languages, with the majority of her work being in the Kannada language.
Having gotten her share of fame and success as an actress, she decided it was time to shift her focus to mentorship. And with that thought she changed the course of her work completely, and embarked on the journey that would make her the leading woman trainer in the country. Who by sheer example of how she has shaped her success story, can now convince women from all walks of life to aspire for the ultimate, to dream big and achieve it!
Impact
Spoorthi is currently the owner of three separate brands, all of which are dedicated to providing recognition, mentorship and work to capable women.
Dream Big Vision Private Limited is a training and development company. She uses this as the platform to address a multitude of women, and mentor them into fruitful careers. Over time she has mentored more than 12000 women, and helped them establish their unique professional identities.
Dream Big Celebrations was established in 2010 as an event management company where she curated unique events that were personal and custom made for each client. This was another skill under her belt- innovation and creativity. Coupled with her fiery presentation skills she was organizing and hosting these spectacular events. Through it she has hosted and presented over 1500 shows, and addressed a cumulative of more than 2 million people.
Lastly, Spoorthi owns the trademark for the Karnataka Women Achiever's Awards (KWAA) and Indian Women Achiever's Awards (IWAA) which are the only two non-commercial shows dedicated to recognizing women's work.
With the help of her companies and dedicated set of employees Spoorthi has touched countless lives and jumpstarted several profitable careers of skilled and ambitious women. Her own contributions have also not gone unrecognized.
Aside from receiving the young achiever award from Whistling Woods, Spoorthi has been recognised as an Alpha Female by Ritz Magazine, and one of the Top Five Actor-Entrepreneurs of India by Femina, among many others. But these are of course simply extraneous details to her, as she is fixated on making an impact on the world, beyond the formalities of awards and recognition. Her energy and multitasking abilities are indeed attributes to wonder and marvel at.
Here is a self-made woman who is paving the way and building a strong foundation for many more aspiring women. She is a dreamer, an innovator and a doer who sees possibility in every spark of an idea. The world needs more women with her flair and panache and we applaud her efforts in illuminating the skills and capabilities of an under-represented demographic, helping them gain their place in the sun and shine just as bright as her!