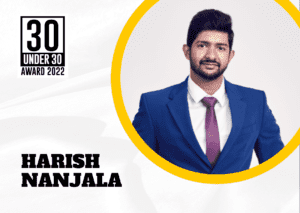 Harish Nanjala 30 Under 30  
How to lead an ad agency to success?
We have been living in the age of advertisements for a while. If the consumerist eighties, and the liberalised nineties was a beginning, then the 21st century has increasingly established advertisements as the primary form of mass communication.
To be sure, it is not something new. Advertisement as a form of commercial art has existed since ancient times. Doctors in ancient Rome used to tell jokes to attract customers. Vendors have their unique clarion calls to identify their wares to interested consumers. Johnny Walker walked right into cinema history while lip syncing to Md Rafi's voice singing about the best champi in the whole wide world.
But the way advertisements works now is not as an attraction, but more of a reminder. Thus it is plastered everywhere without context so that we as consumers know what is available. What should be asked for.
Harish Nanjala observed multiple Indian businesses struggle with a lack of access to tech enabled marketing solutions that could help distinguish them in an oversaturated market place. He wanted to provide rock solid support to these businesses by building customised marketing solutions. Thus his ad agency Augen Media Works was born.
Bootstrapping the Business
Augen Media Works has been established and managed under the leadership of Harish Nanjala. It began its journey in the year 2016, and has since achieved an average of 47% year to year growth.
The agency provides a composite list of services to anyone looking to curate a marketing campaign. Its work has been of consistently high quality that has allowed Harish to build a massive base of clients. He has helped design the marketing portfolios for over 450 clients across 30 or so different industries. The work has earned him collaboration with numerous releasing and PR agencies across the nation.
He has also streamlined his dealings with vendors and associates, and was one of the professionals to harness the power of omnichannel marketing to increase sales growth.
It is Harish's hands on approach to his work, and the passion and dedication he displays for it that has earned him his success. He is also a meticulous individual with a fascination with numbers, and uses statistical data to his advantage to decide on the best step forward.
Within a few years of its establishment, Harish was ready to take Augen into the international arena. So, with his team, he expanded functioning to The USA, South Africa, and the UAE, collaborating with over 45 different corporations in the process. He has also been vying an entry into the markets of Australia, UK, Canada, and Singapore as well, a market with a cumulative worth of $40 billion.
Impact
Augen Media Works has been instrumental in turning the tides for multiple legacy companies, with an effective marketing campaign. Their integrated approach that combines the digital, outdoor, and event focused campaigns into a single coherent whole has helped important clients regain their leading positions in the market.
Augen Media Works' trajectory has been one of incredible success, which has made them the most reliably ad agencies currently working. It is Harish's willingness to constantly innovate and take an absolute, hands on approach to his work that has helped bolster his brand's reputation.
This innovation is not limited to his clients, but also to the internal structure of the organization. Harish implemented the Mentorship Ownership Model (MOP) to overhaul the work culture in keeping with the times, and allowed for greater creative freedom.
His work has been appreciated through awards and interest, but it is the work itself that keeps him coming back. His target, henceforth, is to achieve a pioneer market position with more than 2000 clients by the Fiscal year 2025. And judging by his track record, Harish is going to achieve it much before that deadline.