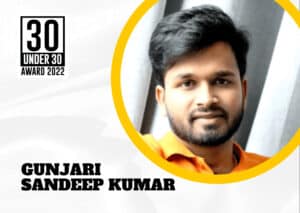 Gunjari Sandeep Kumar 30Under30
How to break into the elevator installation business?
It is not the most accessible of sectors. Considering the amount of specialist knowledge that is necessary to understand the fundamentals of architectural installations. However, as an educated and skilled engineer, Gunjari Sandeep Kumar was more than up to the task.
His initial jobs were as Business Development Associates or Managers in different edtech companies, including Byjus, where he gathered leadership experience, handling teams of up to 20 people. Then he shifted to working in an elevator installation company, which helped him identify the problem sectors in the industry. Armed with that knowledge, he finally partnered up with Bhagya Lakshmi Gunjari to open his own company, Lorven Homes Pvt Ltd.
Elevating the Pitch
Since his school days, Sandeep had wanted to be an entrepreneur. The idea of building something from scratch for himself appealed to him. He wanted the thrill of being his own master, the chance to create employment, and the ability to contribute to the country's wealth creation. He cultivated his dream carefully, and invested his time in learning whatever he thought would help him curve his own path in the world.
The dream of owning his own business was perhaps far-fetched for an young boy growing up in rural Telengana. Entrepreneurship is not the kind of work middle class families prefer. But it was the risk involved in this profession that appealed to him. And the chance to make something out of nothing.
He nurtured his curious mind through an education in science, getting an initial polytechnic diploma from Ratnapuri Institute of Technology, before graduating in mechanical engineering from Chaitanya Bharati Institute of Technology.
Following the completion of his education, he knew he need time to earn enough money to start his own venture, and decided to use that time to figure out what kind of business he wanted to do.
His decision to work in the elevator installation space raised a few eyebrows, considering the steep learning curve that the sector had. But Sandeep was aware of the risks when he had taken the decision to be an entrepreneur.
Thus in November 2021 Lorven Homes Pvt Ltd was born.
Impact
Within 5 months of launching his business, Lorven Homes was finding regular references from customers. Sandeep's aim had been to take charge of the industry he had broken into, and his almost instant popularity showed that he had passed with flying colours.
All businesses are service oriented, and so Sandeep knew that he had to focus on providing the best if he wanted to succeed. His lift installation time is currently seven days, which is the fastest in India.
His impeccable services has brought him corporate customers as well, expanding the revenue stream by a long stretch.
Lorven Homes Pvt Ltd has shown immense growth in the first nine months of its existence, and Sandeep plans on maintaining this rate down the line. Over the next seven years, he is looking to be a game changer in the industry, competing with the leading brands.
His infectious zeal, and ambition to constantly dream bigger and bolder has been instrumental in his erstwhile success. So there is no doubt he will reach this goal as well, in spectacular speed.