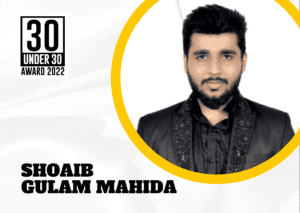 Shoaib Gulam Mahida 30Under30
 How to make a living off essential oils?
Shoaib Gulam Mahida inherited the family business, Mahida and Sons, and has since pushed it into the stratosphere of success with his skilled maneouvering of the market.
Established in 1997, Mahida and Sons has always been a standout supplier of essential oils in the market, standing head and shoulders above their competition. But with the entrance of Shoaib, the brand has expanded its reach into the international market, conquering new territories with its assurance of consistent quality.
It is no mean feat, in this economically volatile era, to maintain the kind of success streak that Mahida and Sons have managed, and it is in no small part due to Shoaib's impeccable sense of business and strategy.
Products Offered
Mahida and Sons offers a variety of products to its customers. The main objective of the company is to offer premium quality items which set them apart from all the other producers and suppliers out there. The way the quality is maintained is through a thorough dependence of modern technologies in extracting the oils, while simultaneously sourcing the highest quality raw material available around.
The main products offered by the company include Pain Balm, Black Seeds Oil, Massage Oil, Almond Oil, Hair Oil, and much else. Buyers are even encouraged to customise their own products by supplying the ingredients and requirements to the company, which is then followed by the workers to tailor oils to their specific needs.
Out of this list of items, the most popular is the pain balm which has outsold ointments by many Multi National Corporations, and remains in constant demand across the world.
Impact
Shoaib has been the primary instigator of international expansion of the company, which has been a resounding success overall. Mahida and Sons now boasts its presence in Africa, UAE, Canada, Kenya, Singapore, Malaysia, Germany, Nairobi, the USA, etc. As stated above, they have attained popularity in all these places, establishing them as a reliable source of products in their niche.
The success of their work is reflected in the burgeoning revenue they generate, which has capped off at 180 million INR over the period of 2017 to 2021. In 2018 they were also christened Iconic Brand of The Year, by Blossom Media.
Shoaib, of course, is intent on expanding his reach and influence much further, and take the company to new, unprecedented, heights.