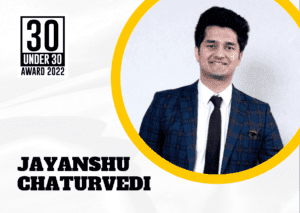 Jayanshu Chaturvedi 30 Under 30
How do you shift your forte from sports to business?
Jayanshu Chaturvedi has exemplified this better than anyone through his entrepreneurial journey.
A skilled cricketer, Jayanshu played for Delhi's under nineteen team. He later moved to Rajasthan in the hope of better opportunities.
An inherently adventurous individual, Jayanshu was driven by the zeal to accomplish something new, and he decided that he would diversify his professional portfolio by starting a business of his own.
That is how CSC by Jai Ingredients came to be.
A Direct to Consumer D2C brand, CSC's initial offerings were skin care cosmetics directed specifically at sports persons. The first item launched by the brand was the now famous + CSC Zinc Sunblock for cricketers.
Over the next one year, the company slowly diversified their product line to include hair and skin care products, detox supplements, as well as vitamin supplements for bone and joint strength. Additionally, Jayanshu is the founder of a cricket coaching academy run in collaboration with Delhi Capitals, called DC Collage Sports Academy.
Vision
Jayanshu was only 22 years old when he founded CSC by Jai Ingredients. As an entrepreneur he was chasing the freedom to do his own thing at his own pace, as well as the possibility of impacting the world at large through conscientious work.
The ensuing struggle of establishing the brand was educative for him. He quickly learnt that the freedom to chase his dreams didn't make him omnipotent. Trying to control every element of reality was a wastage of energy, and the best bet he had was to trust the process and let time shape the result. He also realised that entrepreneurship is less about chasing financial profit, as opposed to providing value to the consumers.
But through all the hurdles of his early days, Jayanshu never stopped dreaming. And the result is available for all of us to see.
Impact
CSC by Jai Ingredients has been a strict proponent of the Make in India campaign. Most of their products are produced in the country with locally sourced raw materials. In this, the brand has become a pioneer in its field, creating jobs in an increasingly volatile economic situation. They are also critically and commercially adored due to the affordable pricing and high quality of their products.
Jayanshu himself has become a veritable celebrity, having been featured in Business Today's list of Dynamic Business Leaders, 2022. He was also awarded the Mahatma Gandhi Young Entrepreneur Award of Excellence in 2022. Additionally, he has been invited to host talks and seminars in various colleges and schools across Delhi NCR, where he has spoken extensively about his experience as an entrepreneur.
Jayanshu learnt a great deal about business from his family who played a pivotal role in shaping his business mind. An ambitious individual, Jayanshu wants CSC to become a household brand across the length of the country over the next few years. But he also warns his fellow aspirants to not lose sight of their individual selves. As they take advantage of the start-up boom that has gripped India, they shouldn't forget to stop and smell the roses.
After all, the small victories are just as important as the explosive successes.