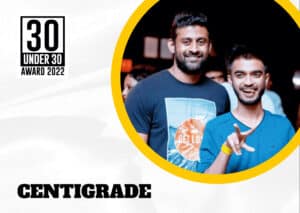 Adith Karanth and Jayanth Shashidhar 30 Under 30
 How do you make a living off parties?
While many of us probably wonder at such fantastical ideas, Adith Karanth and Jayanth Shashidhar actually managed to make this a reality for themselves.
A couple of party lovers themselves, after attending a few Sunburn Concerts, Adith and Jayanth realised that they could fashion event management into a viable business. So in 2013, at the age of 16, right out of school, they established CentiGrade as a company.
It was kept a secret from their parents, as they were rightfully afraid that it wouldn't be a choice of career endorsed by their elders. And without any familial sponsorship, making the business find its legs was quite an uphill task.
But the enterprising young entrepreneurs were clearly up to the task, as CentiGrade has grown into one of the largest entertainment companies in India
Secret Beginnings
Starting a new business is a struggle in itself. And it becomes far more difficult when it has to be accomplished in secret, away from disapproving parents.
So the beginning of their journey was quite hectic for the two youngsters. Without any guides in the industry, they had to figure out its mechanisms on their own. Neither of them were from a business background either, so the intricacies of account keeping and client handling had to be learnt on the job.
Gradually, Adith and Jayanth were able to convince people to take a chance with two teenagers, and they began getting gigs in colleges. Over the first two years they managed to host a number of DJ parties for college fests, which put their venture on the map. It was then that they apprehensively shared the news of their profession at home.
The response wasn't enthusiastic, but their parents relented as they had built the entire initiative from scratch without any financial help from their families.
Recounting the initial years of their work, Jayanth admits that the work was hectic. Not only were they often put out of their depth, monetarily and otherwise, but they also had to manage their education alongside their work. But the two friends were determined to make things work.
By the fourth year of its existence, CentiGrade finally began to break even. Since then, it has been off to the races for the two founders of the company.
Impact
CentiGrade is currently functioning out of Bangalore, Goa and Hyderabad, with plans to expand into other metropolitan centres across India. From their humble beginnings as an event management company, they have grown into a full fledged entertainment business. The services provided by them include, night club programming , concert tours, artist management, event curation, live stream entertainment, club consultancy and digital marketing. They are currently looking to expand into the food and beverages industry as well.
Over the 10 odd years of their existence, they have already programmed prominent nightclubs throughout the country, flown one of the world's most famous DJs down to india, and had over 200 sold out shows. Adith and Jayanth are jointly considered the country's best promoters. And as young and hungry as they are, they have no plan of stopping any time soon.
In the coming years the duo are looking to open their own super clubs, that would streamline their entertainment services and f&b aspirations into a single initiative. Their current target is to expand services to at least 20 cities over the next few years, and partner with ambitious young personnel to take their venture forward into further success.
India's entertainment market is obviously huge, in keeping with our population, and the two youngsters have capitalised on its possibility pretty well. They hope that their success becomes inspiration for more entrepreneurs to take the plunge into this industry, and help realise its full potential.