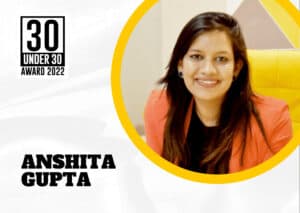 Anshita Gupta 30 Under 30
How do you teach gratitude to children?
Anshita Gupta has dedicated the majority of her life to the holistic development of children. She has been an educator for almost a decade, and over her tenure has realised, not unlike many other pioneering individuals, that limiting education to the standardised curriculum does not work. In fact, it is the bare minimum effort that can be put into developing a child's mental and physical capacity.
Anshita's approach has been to educate her students in a spiritually comprehensive way. It is not, however, a focus on religious education. Instead she wants to inculcate the virtue of gratitude in their everyday life, making existence a more calming experience than what the hectic schedule of the modern world would ideally allow.
The unique approach to early childhood education has earned Anshita well deserved fame as a teacher and entrepreneur. And she intends to continue her crusade to better the education system.
Approach and Attitude
Anshita Gupta founded Sun India Preschool to be the platform for the change she wishes to bring about in the education sector. 
Her own education is a mix of Business Administration, in which she has a masters, and Early Childhood Education, in which she has done countless courses to enrich her understanding of the young mind. She is currently pursuing her PhD in Management of Early Childhood Education. 
Her aim is to foster leadership potential in her students and create the change makers of tomorrow. Her focus on gratitude is a way to help connect her students to the phenomenological world they inhabit. In an increasingly disconnected world, she believes that it is essential for children to return to their roots , and relate to the natural world around them made of the same matter as themselves.
It is a unique and remarkably efficient approach that helps calm the young mind and enable curiosity and concern for the world to blossom in their hearts.
As the parent of 2 young kids,  her interest in children's lives and mental capacity is born from first-hand experience and concern. 
This concern is something she extends to women of all backgrounds as well, being an earnest advocate of inspiring, educating, and empowering women. 
Her work is driven by a radical empathy and an ethical responsibility to the reality that has nurtured her to pursue her dreams.
Impact
Anshita's influence has touched multiple lives across the country, and she continues to work tirelessly every day. She has trained more than 500 kids in the art of gratitude and has hosted Gratitude Classes with several schools and NGOs, which have also benefited from her financial contributions. She consults with different preschools and edtech startups, and trains educators in her unique way of teaching.
Her efforts have been recognised and felicitated by numerous organizations over the years. 
Sun India Pre School has been shortlisted in Silicon India Magazine's list of Top 10 Best Educational Start up Institutes in India- 2018. It has been recognised for its Excellence in the field of Education by Simply Jaipur Magazine in 2019, and has been called The Best Preschool of the 2019 by Dr Deepak Vohra, Ambassador and Advisor to the Prime Minister of India.
As an individual, Anshita has been cited as the Most Successful Women Entrepreneur by various sources. The Indian Circle of Moms awarded her that title in 2018 for her contributions in the field of education and women empowerment, and has been listed amongst the 51 Most Successful Female Entrepreneurs of India, 2020 by Portrait Business Magazine. She has been called a Trendsetter and a Rockstar in preschool education, and received the Women Recognition Award from the Princess of Jaipur, Her Highness Diya Kumari, on Women's Day 2022.
Nonetheless, her efforts continue, unfazed by the hullabaloo around her. To Anshita Gupta, the reward is in the work itself, and the dream of a grateful world it is realizing, bit by bit.