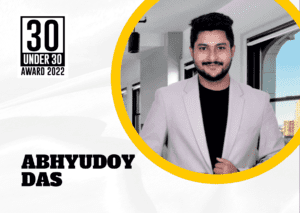 Abhyudoy Das 30 Under 30 
Abhyudoy Das is one of the best globally recognized crypto marketers in India of more than six years with not only a founder's mindset but a decision-making, and problem-solving disposition having worked in software, advisory and marketing roles for multiple start-ups.

How to make web3 the social finance platform of choice for India?
Abhyudoy Das wants to overcome the lack of a user prioritised super app akin to Facebook, Twitter or Instagram in India followed globally as part of his research, and has been intent on utilising the rising power of web3 to remedy that.
Having worked with Tech MNCs  and global crypto start-ups  in software development, marketing management and advisory capacity, he was confident enough to research on the complex problem with some of the young and talented people  and file his own patent. He envisioned it as an all inclusive financing and socialising solution that would help generate recurring revenue for its users.
Research Statement
Web3 comes with the possibility of democratising the increasingly monitored internet landscape. Some experts have hailed crypto currency as a challenge to traditional economic structures, despite using the same floating system of value that has been in vogue since the gold standard was forgone in the 80s.
So it stands to reason that there would be a chance for users to become partners in the revenue stream through its use, instead of being sources of single serving income.
That is what his research is intent on doing.
Abhyudoy pitches it as a solution  that provides a unique tokenized recurring revenue stream & NFT powered social platform for celebrities, influencers & content creators that allows direct engagement and commerce with their audience while helping  them easily enter the web3 ecosystem of the future.
So what exactly does that mean?
Basically, the platform has an integrated economic structure where digital engagement can be monetised. The content creators on the platform have the choice to use different techniques like NFT unlocking and royalty bidding, or the old reliable standard of brand collaboration.
Instead of the one way revenue generation model that has been popularised on Youtube, Instagram, and other content creation platforms, here the content creators have the option to engage with the platform's revenue generation mechanism itself.
No longer is it an unidirectional relationship with a power imbalance, but an apparently symbiotic one where the platform and its users are equally responsible for its maintenance and success.
Impact
The innovation offered by his research has been a difficult sell in certain circles. Especially as the Indian government remains sceptical of the blockchain economy. However, as the digitally literate generation gains more knowledge of the system in place, these platforms are slowly but steadily gaining momentum and popularity.
Abhyudoy's innovative efforts have been recognized from different quarters. He has won the Blockchain Accelerator Program of Draper University and Tezos earlier, and has been recognised by Fox India as one of hundred individuals under 40 to watch out for. He has also been selected for the Business Outreach Program and many more.
He has co-founded successful start ups earlier as well and always got recognized in the Blockchain industry. For the new generation working hard to make an impact, he says ""Until you break your creation thousands of times, you can't build the masterpiece you are aiming to build one day"
His dream is to make India a leader in the Web3 based internet revolution, and help at least 250 new age tech startups to be profitable and make a tangible difference in the economy in the long run.