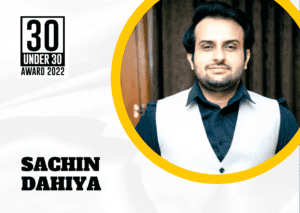 Sachin Dahiya 30 Under 30 
How do you achieve the mindset for success?
Like the rest of us Sachin Dahiya also struggled with this question. The dilettante twenties had hit him as well, and initially he was lost in the desire to do too many things, without the proper motivation to pursue any.
The shock of having lost his father when he was 16 years old was still fresh, and as a directionless man in his twenties he found himself broke and depressed. Things changed when he landed his first job at Systopic Labs in 2015.
Sachin was a skilled worker and soon made it up the promotional rung, into a leadership role. But he realised that despite job security and financial stability, he wasn't happy. He changed his job in an effort to find his niche, and joined Zomato in 2017. Once again, his work was appreciated and he climbed the hierarchy of positions quickly. But the nagging dissatisfaction remained in his heart.
So, in 2019 he decided that it was time to quit his job and begin his own venture. He wanted to help people, and leave an impact on the world. Entrepreneurship seemed like the logical way to go, and Sachin decided that he would open up a service to help aspiring individuals achieve their dreams.
Harnessing Habits
From his own experiences, as well as his interactions with entrepreneurs, trainers and coaches across the world, Sachin knew that what people lacked in their lives was clarity on their motives and confidence in execution. As an avid reader, and a student of the human mind, he knew he could help people overcome this obstacles.
Thus, Dahiya Consulting was born.
He gathered all the lessons he had learnt over the turbulent twenties of his life, and put it into an organized system, and offered that to his clients. He wanted to teach them about the power of exploration and perseverance.
Before he could teach others about the fruits of these virtues, he had to learn them himself over and over again. The beginning of the business brought with it a set of new challenges. Sachin had to invest in new skills, like social media management, and regularly and frequently step out of his comfort zone. After a while of stability, he had wilfully pushed himself into an uncertain path. This brought back old fears and anxieties, that could easily overcome him.
But Sachin believed in himself. He was made of sterner stuff, and he believed that his dreams were worth pursuing to their conclusion.
Thus he made a habit out of facing uncertainty and failure.
And soon, Dahiya Consulting was on his way to success.
Impact
Perhaps the greatest impact Dahiya Consulting has had is on the Sachin himself. Walking his own path made him a more confident person. He wrote his first book at the age of 26. Habits 101: The Science and Art Behind Habits is now a staple of the self help genre. He quickly followed it up with another book, written in collaboration with ten other authors, called Empower Your Growth.
His consulting business has been instrumental in helping numerous aspiring leaders and entrepreneurs in realizing their true potential, and his work has been widely acknowledged and appreciated.
Sachin Dahiya is the youngest Sr. Vice President for the world's largest platform for trainers and coaches, the Teachers are Leaders Community, and has been on the jury of Young Tycoon's Business Competition 2022.  A skilled public speaker, he has given over 50 keynote addresses in various on and offline events and is currently eager to give his first TEDx talk in August 2022.
Life has been eventful for Sachin, and he refuses to plan for the future, leaving himself and the rest of the world with his favourite phrase, Never Settle.