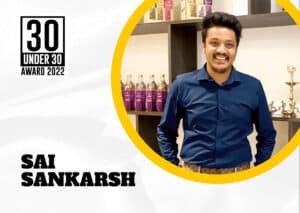 Sai Sankarsh 30 Under 30
How do you battle anxiety with aroma therapy and edible oils?
Around two years ago, Sai Sankarsh was afflicted by an anxiety disorder. The pandemic had taken hold of the world, and the uncertainty was quite unbearable. Following the advice of his loved ones he sought out a psychiatrist, and was prescribed a couple of antidepressants to battle his affliction. However, after a week of taking the medicines, Sai felt that he experienced little change. He was also disturbed by the drowsiness he felt after imbibing them.
Looking into the effect of antidepressants on the internet, he realised that they were slow acting and could impact the body in other ways for certain people. Sai decided that he wanted alternate modes of treatment.
In his search to find a better way of dealing with anxiety, he first encountered aroma therapy and holistic healing techniques, which worked wonders for him. He was brought out of his mental slump, and able to focus on the present.
That is when he decided that he wanted to sell oil and aroma therapy solutions through a business of his own.
Internet Marketplace
What struck him about the edible oils and the entire holistic treatment schtick, was the exorbitant pricing that went with it. Tiny 15 ml bottles cost between 1500-4500 rupees, which was beyond the affordability of people in low income groups.
A believer of tradition and religion, Sai decided that he wanted to combine the ritual practice of puja offerings to the God of choice with the psychological language of gratitude and affirmations, and inculcate essential oils in the process. Thus Panchami as a brand was first established, which sold oils that could be used to light the lamps, and provide aroma therapy in the process.
The initial service was carried through an Instagram page, and only after it had gathered enough traction and popularity did they launch the brand into the physical retailing space, under the company name Sai Satya Siri Eximm.
Impact
As a brand Sai Satya Siri Eximm has found significant success, catering to a vulnerable crowd of people trying to escape the debilitating effects of mental illness and fatigue. With a family historically involved in the production and refining of oils, Sai was able to establish the business with relative ease, sourcing good quality products for his customers. But securing a retail space in the competitive market was an uphill battle. Successfully managing to accomplish that has been his most cherished accomplishment.
Sai claims to be an inherently deep thinker with a knack for curating business models, marketing strategies, and building brands. So he has found the perfect niche for his profession.
Of course, his primary aim is to battle the ever growing mental health crisis, and wants his alternate procedure to catch on as a effective treatment strategy. The popularity of his oils has allowed him to diversify into incense sticks, which claim to serve a similar purpose.
He hopes that he is able to cure the world of these deadly afflictions in minimally invasive ways, and prays for the success of his brand on that account.