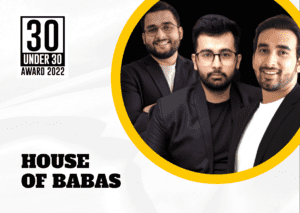 House of Babas 30 Under 30
How do you build a sustainable clothing and lifestyle brand?
Kal Ho Na Ho…. HOB is Sustainability PRO!
Trio of college boys; Shivang Slathia, Vijay Saran and Mohit Kapur began with artfully designed cool phone cases in the name of Humour Baba as part of entrepreneurship project in VIT. The idea took shape further on to enable them to establish House of Babas in 2020 with thematic tees that amplified the youth's thoughts and attitudes.
As time went on, the three friends realised that they had a genuinely interesting idea on their hands, and decided to expand its product variety. Soon enough, the name was changed, and the list of items provided by the company increased.
The focus of this expanded business was sustainable clothing. As young entrepreneurs born into an increasingly volatile world climate, the three founders were keenly aware of the need to be environmentally friendly. And they made this the mission statements of their business venture.
Thus, House of Babas came to be a cumulative effort of making artwork accessible through environmentally sustainable products. This approach also allows the brand to work with multiple artisans in different artistic styles, and has helped broaden their repertoire of designs. House of Babas has always had its foundation in creative art from its inception, therefore it not only is a sustainability enabled company but a creatively artistic one too.
Beginning of the Babas
Shivang, the CEO of the company, is an artist himself. While in college, he would custom design phone cases for his friends and himself. Recognizing the business opportunity in this endeavour, he collaborated with his two best friends, Vijay and Mohit, who came on board as the COO and the Director of the Business respectively. Vijay, the COO, delves into Technology and Social Media & Marketing Management. Mohit, the Director of Business, oversees the Operations and Management of House of Babas.
The bootstrapped startup began with marketing on social media pages and setting of exhibit stalls during college fests. But, soon it was realised that the brand had a wider range of possibilities than what they had initially envisioned, and hence the expansion process began within 2 years itself. The vision of the trio was to go beyond paper, and make art wearable. It made art a much more intimate part of daily life.
Having founded the company when they were around 20 years old, the trio received incubation support from VIT- TBI and raised seed funding in 2021. Despite the pandemic causing chaos, they were successfully able to set their business up to sustain the immense popularity the brand have among the youth.
Impact
In their effort to develop and maintain sustainable ie. Gender neutral clothing items, House of Babas has affiliated itself with Atal Innovation Centre (AIC) Tirupur, which is one of the largest textile research institutes in India. They have also been awarded the Nidhi Prayas Grant from the Indian government for technological developments in the field of fashion.
The earnings for the company in their maiden month was over INR 70k, which in itself, was a massive achievement and motivator for kids still in college. Input of their dedication and hard work led to them having grown popular among the youth, with a community of 4000+ Babas. Furthermore, they are going to be listed on Myntra, Amazon and Flipkart for customers
The designs and artwork on House Of Babas wearables have an urban chic design which has helped them gain popularity among the youth of today. "Streetwear" and "retro futurism" inspired bold messaging are their major themes.
The sustainable production cycle, and recycling ethics adopted by the House of Babas has enabled them to contribute to the climate change concerns. A generation of people caught in the throes of drastic climate change appreciate the efforts by individuals and brands that combat its effects. To this effect, House of Babas has helped save 4 Million litres of water through sustainable processes taken up for production till date.
The House of Babas trio; driven by impact advantages, are also innovating in the field of NFTs, and thereby are building a strong youth community. With their youthful energy, and ethical concerns House of Babas are making us realise that this change is possible and workable and sustainable to embrace the future.
We; the team of Entrepreneurs Today, wish them all the best.