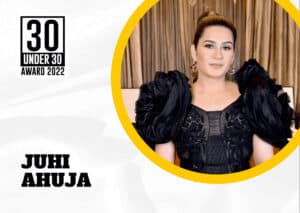 Juhi Ahuja 30 Under 30 
How do you juggle multiple businesses?
Although Juhi Ahuja Chitkara had always dreamed of being a business woman, she didn't begin her professional life in that sector. She initially pursued a honour degree in law, and set up a successful practice. However, following marriage, she managed to dip her toes into the world of businesses.
Juhi first joined her husband's business to learn the ropes, and helped expand its operation internationally. She then joined her brother in law's couture business, before branching out and establishing a PR company in her own right.
She is a shining example of success and perseverance in the business sector, and an inspiration to multiple young women.
Early Days
Born and brought up in the capital city of India, Juhi Ahuja Chitkara had always been a intelligent and perceptive student. A darling of her teachers and parents, although her dreams lay in entrepreneurship, she decided to complete her education and earn a vocational skill to prepare her for the professional world.
In accordance with her studious nature, she chose to study law, and joined Guru Gobind Singh Indraprastha University for a graduate course in the discipline. After completing the course, she worked as a litigator for a while, practicing family law as her area of expertise and interest.
In 2018, after her marriage to the founder of Tiana Silver Art Jewellery, she joined the business, and was a major impetus behind its international expansion. Under her leadership, the brand grew in stature, and was endorsed by multiple celebrities like Raveena Tandon, Kusha Kapila, and Sanjana Sanghi. Their high fashion jewellery was the accessory of choice in many luxury fashion shows, and was covered as a burgeoning brand of jewellery with great designs to offer, by multiple news outlets, including The Statesman, and New Indian Express.
Continuing her tryst in the fashion industry, she became involved with her brother in law's couture business next. Once again, her skilled maneouvering of Adaara Couture put it on the map. Their impeccable designs and minimalist aesthetic quickly became popular in the market.
Having held a successful career in law, and hailed two separate businesses into financial success, Juhi finally focused on her very own venture. In 2021, she founded her own Public Relations Agency called Bisou Communications.
Impact
Having experienced running two separate brands, Juhi was keenly aware of the need for a good PR strategy to aid the success of an initiative. Thus Bisou Communications became a culmination of her accumulated knowledge of the needs of a rising brand to find a place in the public consciousness.
Bisou Communications is no different from her previous ventures, having found immediate success in a crowded market, due to the concerted efforts of its founder. A boutique PR firm which offer digital solutions tailored to the needs of different brands and individuals. Providing a wide range of activities both on and offline, it has curved a niche of its own.
Inspired by her father's grit, and her passion for art and fashion, Juhi Ahuja in turn hopes to inspire the rest of the country to dream just as big as her. Persevere through failure, and strive for self sufficiency.
After all, failure is the pillar of success, says the successful entrepreneur, with a smile.