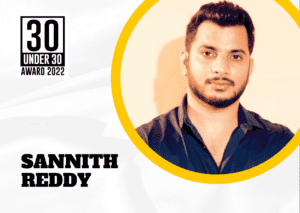 Sannith Reddy 30 Under 30 
How do you make an elite game like golf accessible to the common people?
Sannith Reddy eventually reached this question over the course of his life. But his initial interest in entrepreneurship was the chance to innovate. In some ways it can be deemed as a social experiment on a grand scale.
And Sannith had to experiment and improvise through the development of his business. His idea was ambitious, and when his work was close to completion, the COVID 19 pandemic struck, delaying his plans by quite a margin.
So what was his idea?
And how did he get there?
Dreams of Entrepreneurship
Coming from a well-to-do family, Sannith was not immediately interested or worried about money. As written before, he wanted to be an entrepreneur to engineer social innovation.
Following a computer science degree, he thus moved to Sydney to do an MBA, with the intention to work on his dreams. His first business was a small corner cafe in the outer suburbs of Sydney. He bought and renovated it, into a flourishing business for himself. This gave him the confidence to work on his entrepreneurial dreams, and he returned to India in 2019 to roll things into motion.
His idea was to make golf an approachable sport to the middle class. His cousins believed in the idea and joined him in expanding the business. So he set up a Sports and Entertainment company called Abstract Concepts Pvt. Ltd. And then chose his home city Hyderabad as the destination of his first sports-entertainment venture, Onegolf.
Built on a sprawling expanse in the financial district of the city, Onegolf is an all in one club experience, themed around the eponymous sport. There are 16 hitting bays, 3 arenas, 2 levels, and a brewery and pool to boot. Dining experience is of course included, if one wants to.
This extravagant idea was almost executed, when the COVID pandemic happened and locked things down for a while. Work was halted.
In what is perhaps the most difficult time of his career, he grit his teeth and held on to hope, tiding over its dues. As it finally subsided in 2021, he managed to launch his dream golfing experience. In December of that year, it opened up to the public.
Impact
Sannith's first venture has already seen great success in the city. It is India's first, fully automatic golf driving range.
It opens up the sport to seldom, and non golfers as well, who can mingle with their friends over a tee off in an informal setting. The dining and pool makes it a more holistic club experience.
And indeed people have taken to it very well. Its training classes for budding golfers is quickly filling up.
Its rapid success has attracted multiple international giants of the golf industries, one of whom has partnered up with them to help expand all over the country. There are two new outlets planned in new cities already, projected to open in 2024.
The golfing experience in Onegolf, Hyderabad is being currently taken to the next level, with the addition of high speed digital cameras, which will measure the distance and trajectory of the balls, and make the game more competitive with digital score boards.
So it is well worth saying, that for Sannith Reddy, current CEO of Onegolf, that his abstract concept has turned out to be quite a hole in one.