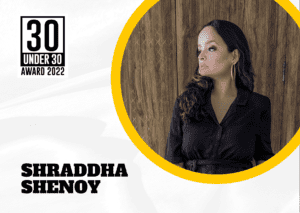 Shraddha Shenoy 30 under 30
Lex Mandamus LLP, one of the first few globally operative Virtual Law Firms in the country, has been setting a new norm by intersecting Technology and Law.
Shraddha Shenoy, a Mumbai based Advocate who is the Founder and Director of  Lex Mandamus LLP, piqued our curiosity with not just this idiosyncratic Virtual Law Firm that operates globally, but also her benevolent spirit and philanthropic activities.
With a blend of her experience in entrepreneurship and law, risk taking and innovation, this young lawyer made a mark by looking into the future and establishing this globally operative Virtual Law Firm. Lex Mandamus was already operating virtually on a global scale by the time the pandemic hit the globe, setting the need for virtual operations. If anything, it seems the rest of the masses caught up to where this firm already was before the pandemic. Their global virtual service platform leveraging cloud-based technology has definitely redefined accessibility.
It didn't end there, Lex Mandamus LLP are also one of the few law firms to introduce the all-too rare, seemingly obvious but uncommon, Medico-Legal services. The terms Law or Medicine are very well capable of leaving an average layman feeling adrift, having very little idea of what it constitutes. With the Medico-Legal issues like Medical Negligence, Malpractice, Unwarranted Accusations up-surging exponentially, especially since the pandemic, the need for Medico-Legal services is certainly the need of the hour. Lex Mandamus has very well been an intercessor by incorporating this specific and unique service.
Shraddha is also the Co-Founder of 'WE', which is an elision for Women Empowerment. This Lex Mandamus LLP initiative has been one of the leading advocates to address social issues surrounding women. This initiative has resolved around 60 projects and has been working on a flood of issues which the UN too addressed as a "shadow pandemic" of rising gender based discrimination. We are amazed at how simply she stated her concrete philanthropic goals in one sentence, "Be the change you want to see in the world. We have one world and it's ours and we need to give back to it." The dynamism of this initiative has been recognised by some profound platforms such as Mid-Day, Startups India, One India, and Entrepreneur Ethics.
This young lady is certainly churning her way up the ladder by acting upon numerous 'firsts' across a range of the practice area disciplines and industry needs. She has recently been an awardee of the 'Women Leadership Award 2022' channelised through Zee News, She also received prominence as one of the 'Champions of Change', instrumental in accelerating a virtuous cycle of gender equality at 'The Women on a Mission Summit 2022' which was an international summit by 'HerStory'. She was nominated in the '2022 Female Entrepreneur To Watch' category by the prestigious 'Woman Entrepreneur' magazine, New Zealand and the 'Indian Achiever's Award 2021' by the Indian Achievers' Forum & CSR Times.
She concluded the conversation by saying "Lex Mandamus has been graced with a terrific team of professionals both as partners and employees. They have always believed in my vision. We set a goal and dive into efforts together to achieve them. Team work has truly been Dream work for us". 
Interestingly, the name, Lex Mandamus roughly translates to 'Law having a command' and this robust lady is certainly upholding the term, by not just thinking of change but making it a reality. We wish her continued success.