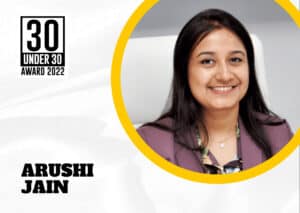 Arushi Jain 30 Under 30 
How do you expand an already expansive business? 
Akums Drugs and Pharmaceuticals Ltd. is a leading pharmaceutical company in India – a sector which honours it as a pioneer because Akums has built a marvellous track record on the basis of the authenticity and trust it has accumulated over the years. Established in 2004 by Shri Sanjeev Jain & Shri Sandeep Jain, the company is known to cater to over 12% of the  total pharmaceutical needs of India and also supplies formulations to almost all national and multinational pharmaceutical companies.
Ms. Arushi Jain belongs to the second generation of this promoter family. She joined Akums again in 2018 and has since grown to become one of India's finest leading businesswomen. Ms. Jain is a distinguished professional committed to strengthening the company's market positioning by implementing unique managerial strategies, process improvements, business strategies, risk mitigation, building efficiencies, digitization some operations, and maximizing growth opportunities.; thus helping Akums become a powerful enterprise in the field of pharma contract manufacturing. Having a firm grip on marketing and growth strategy, Ms. Jain plays a vital role in building a top-notch leadership pipeline for the organization.
At present, she is the Director of Akums Drugs and Pharmaceuticals Ltd. With her vital experience, Ms. Jain is helping Akums reflect the growth she envisions in the coming years. Through her constant endeavors, she has brought about an exponential growth and also has a clear vision for the future of the company. With Akums being led ably by its focused leadership, Akums will continue to spread its wings in the domestic as well as global pharma markets.
Professional Beginning
 Born into a successful business family, Ms. Jain inherited the aim to serve the nation by building its health and making it disease free – a passion that runs in her blood since the company began their pharmaceutical venture. Her initial stint at accounting giant Ernst & Young, where she mastered the ropes of process improvement, financial analysis , ingrained the values of hard work and devotion deeply in her psyche. Over the years, she has sharpened her skills and personality to envision and achieve bigger aims in the pharma sector. She believes that only by one's grit & perseverance one can be successful in most facets of life. Today, this philosophy reverberates through Akums, which is known for its ongoing quest of best quality, remarkable service, striving for perfection and efficiency.
Akums manufactures the entire gamut of pharma products comprising herbal, Ayurvedic, and allopathic medicines and nutraceutical supplements as well as veterinary medicines, catering to all sections of society with all kinds of therapies. To anyone looking for a reliable source of hope in the form of quality, affordable medications and therapies, Akums is the gold standard. Ms. Jain has faith in the difference Corporate Social Responsibility can make to the society and has forever extended Akums' influence to foster various community welfare projects.
Impact
 Her unbreakable association with Akums has led Ms. Jain to help the company carve an enviable niche for itself in the domestic market and have increasingly recognized the value of focusing on customer growth and retention in order to boost customer advocacy and drive organic leads.   She engages with customer to understand customer needs and her strategic planning is propelling company to new heights.
For all her efforts, Ms. Jain has been recognised with the Young Entrepreneur Award at the India CSR Summit of 2018, mention more awards. Her dedicated efforts and endless endeavours has also earned the company several laurels and accolades such as the National Award for Quality Products & Pharmaceutical Formulations from the Government of India, the India Pharma Award in Excellence in Contract Research & Manufacturing for several successive years, etc.
She always motivates her team to remain dedicated towards their work, and strive to learn everyday , as an enterprising leader should. Ms. Jain is a passionate book lover and an explorer who loves to travel when she is not on the job. As an entrepreneur and a leader, she is the perfect blend of wisdom and enterprising energy.