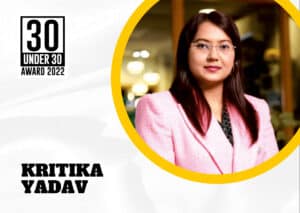 Kritika Yadav 30 Under 30
How do you make runaway success in finance?
Kritika Yadav has paved the way for that question to be pursued in practice. She is a Certified Financial Planner (CFP) from USA, and the only woman from her state. She is also an entrepreneur, having founded Marketing Maestroo Pvt. Ltd, and an YouTuber to boot. She runs a self named channel where she educates people on different aspects of financial planning.
But upon discovering the market around the age of 21, and beginning investments in stocks and shares, she made a hard pivot into the financial sector. Know she is among the successful investor in India.
Background
Kritika was born and raised in the small town of Bhilai in Chhattisgarh, in a run of the mill middle class family. She was a bright student throughout her life, and initially had an intention of pursuing a profession as an engineer and scientist. But with the discovery of her knack for the finances changed her plans, and she instead embarked on a journey to become a CFP.
Certified Financial Planner is a formal recognition of education and experience by the CFP Board of Standards, Inc., in USA. The examination process is long and arduous and requires extensive experience,, prerequisite knowledge, and dedication. There are only 1800 CFPs from India, and a mere 3 from her state, from where she is the only woman representative in the profession.
As a CFP she helps her clients approach investment in a holistic and individualised way. She takes stock of the financial condition of the clients, and then maps out the best investments strategies through to the point and aftermath of retirement.
Her work and her designation keeps her on her toes, but she has nonetheless managed to branch out her providence of services with Market Maestroo Pvt. Ltd., a financial planning platform she co founded with celebrated wealth manager Ankit Yadav.
Impact
Kritika Yadav's professional impact as a CFP is bypassed by her impact as a financial educator. Since the establishment of her company, she has consistently focused more on spreading financial literacy.
Her YouTube channel, simply titled Kritika Yadav, has over 500k subscribers. The winner of a Silver Play Button, Kritika primarily uses the platform to spread knowledge about the financial market, and the best ways to approach investments. Her coherent and simple video essays have brought her much appreciation and love.
Additionally, her work with Market Maestroo is also focused on promoting rural financial literacy. Her focus is primarily on rural & urban women, and devising sustainable investment plans for themKritika was recently awarded by the government's Rural and Urban Development Summit with the Women Achievement Award in Finance and also She is also the Winner of Asia's Rising Star of the Year 2022 by Icons of Asia
Her diverse interests, and versatile talents have won her the moniker of Wonder Woman of the Stock Market. Her story of success is a source of constant inspiration for many youngsters, and her philanthropic interests are a model for their behaviour.
Recently, Kritika added another feather to her cap by launching her very own website, kritikatopstocks.com. A one stop shop for investors, it categorises stocks according to their values, yield, etc. Using her vast knowledge of financial institutions, she has set the website up as a comprehensive entrance point into the investment game, tailored according to the needs of the user.
With the emerging success of her newest venture, Kritika Yadav is confidently continuing her winning streak into the future, and presumably, taking us along for the ride.