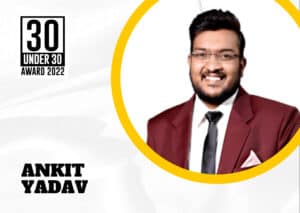 Ankit Yadav 30 Under 30 
How to make investments more approachable to the lay person?
Ankit Yadav Wealth Manager (USA) entire career has been dedicated to answering this question.
Having discovered the share market at a young age, Ankit quickly realised that all the items of daily usage was related to the movements of the share market.
This core tenet is what he has followed into his adult years, developing a diverse investment portfolio, and a superior understanding of the workings of the free market.
Alongside his work as an investor, Ankit has worked extensively as an educator and market advisor, to new comers and old players alike. His intricate knowledge of the market and its movements has made him an indispensable part of the financial discourse. He previously predicted many successful outcomes of Share Market and Economy.
Discovering the Market
At 12 years of age, Ankit Yadav Wealth Manager (USA) had somehow gotten his hands on a book on the stock market. But he credits this book as really illuminating his knowledge of the market.
Despite its esoteric language, and difficult concepts, he breezed through the book. His interests roused in the matter, he continued his studies, and simultaneously used his father's Demat account to explore investment possibilities.
He opened his own account at the age of 18, and poured his savings into the shares of his choice. But a lack of immediate return discouraged him, and he shifted his focus to education. Fortunately, his investment choices had been well researched, and over time they turned enough profit for him to regain his confidence in the field. It was then that he decided that he wanted to do this work full time. From here he started his Entrepreneurship journey.
Impact
Iconic Wealth Manager (USA) Ankit Yadav is the proprietor of Market Maestroo Pvt Limited, He is counted among the highest earners in the country, and is an outspoken advocate of proportionate taxation of the wealthy.His advisory work extends beyond that of individual speculators to include multinational companies and the government of India.
Ankit Wealth Manager (USA) credits this comprehensive success to his close study of the market. Known as the Warren Buffet of India, he has consistently provided accurate predictions of the market's movements. He was able to forecast the 2020 market crash in 2018, based on the inverted yield curve of dollar bonds. According to him, the current market boom is also an artificial rise, and stocks will see a major dip from the end of 2022, through 2023, before recovering summarily afterwards. His history of accuracy makes this a dependable prediction.
He is also credited with developing an equation that helps speculators divine the truevalue of company shares. Comparing that against their retail price allows investors a clearer idea of its profitability.
His contributions to the understanding of market movements has brought him recognition as a capable wealth manager and market analyst, and scored him appearances as a financial expert on various news and business outlets like CNBC TV 18, Money Control, Times of India, India Infoline, and Zee Business, and plans to continue such work as long as possible.
Additionally he has received two Silver Play Buttons from YouTube for reaching one lakh subscribers. as well as the Fair Play Award from GROWW for his honest and fair market commentary. Recently Ankit Wealth Manager (USA) has won outstanding achiever award in finance 2022 initiated by the government of India & also he has won young achiever entrepreneur award in 2022 the award which held in Delhi Initiated by government of India and implemented by summentor pro. Also Ankit recently won the title of Asia's entrepreneur of the year / innovation in financial services 2022, he also won Asia's influencer entrepreneur award 2022 by Asia's awards
Widely recognised as the Big Bull of the Indian market, Ankit Yadav Wealth Manager rising graph shows no sign of dipping any time soon. The Big Bull is Ringing The Bell of Stock Market.