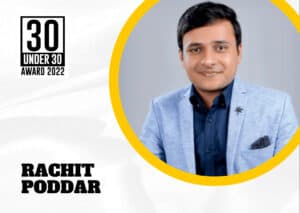 Rachit Poddar 30 Under 30
How to break into the start up game from a traditional business background?
Rachit Poddar is a second generation entrepreneur of the Poddar family. The Rachit Group based out of Surat, established in 1992, had been predominantly into the textile industry until recently. They were market leaders in providing quality textile material and designer ethnic wear for women, to wholesalers and retailers alike, across India.
With Rachit's entry into the business, the focus of the group grew much more diverse, somewhat to the chagrin of the elders. He was interested in investing in start ups, which was seen as a mistake.
But Rachit stuck to his guns and co founded a venture capital fund, which has helped expand Rachit Group's financial and cultural impact exponentially.
Diversification Division
Having grown up in the digital industrial explosion, Rachit was able to anticipate the start up boom that has begun since the last decade. And intuitive young man, he knew he had to invest cautiously but quickly, and get a head start in the market.
So going against the advice of his elders, he co founded IVY Growth Associates, a Micro VC and Angel Network that would act as a crowd sourcing platform connecting interested investors with potential investment opportunities.
Introducing this new direction in business in the traditional business community of Surat was a bigger challenge that he had anticipated. Despite his firm belief that start ups would flourish as the next big thing, he had a very difficult time convincing experienced business people to begin investing in them. This scepticism was further aggravated by the types of industries where start ups were popular.
Edtech, electric vehicles, agritech, fintech, and software as a service businesses were innovations in a wildly different direction than what most people were used to. the utilization of the digital and electronic sphere of possibility made many people uncomfortable, and turned them away from investing there.
It was to Rachit's credit that he not only set up his own investment platform, but successfully broadened the horizons of Rachit Group, allowing them to expand their portfolio of products and businesses. He set up a separate venture capital, diversification division for the company and came on as an executive director.
 The following story is the same boring one of hard work and steadfast belief that resulted in a positive turnover for the Rachit and his family business.
Impact
Rachit is actually part of a new brood of highly educated investors who are using their collected wealth to support smaller businesses. He is an alumnus of the University of Westminster, London, where he pursued his MSc in Entrepreneurship, Innovation and Enterprise development. Since then he has continued to seek out courses from prestigious universities to further his knowledge.
So while his motive was innovation, he nonetheless carefully considered his decisions before final investment. His platform currently has more than 500 angels in their network. Through their system, there are currently over 40 active investment in various stages from pre seed to series A funding rounds.
Rachit individually has 70 or so investments across his preferred sectors in partnership with Venture Capital firms like Accelerator, Angel Network, AIF Fund, Investment Banking Firm. He has reaped sufficient dividends from across all of these, but is most proud of having made his father and role model proud of his achievements.
His perceptive business practices have earned his features in media outlets like YourStory, BusinessWorld, BW Disrupt, Business Standard, Economic Times, VCCircle, TOI. He also flaunts his membership in esteemed international organizations like Forbes Business Council, Corporate Connections, TiE, Della Leaders Club Mumbai and Institute of Directors London.
Notwithstanding what this extensive catalogue of investments and activities may signify, Rachit is not a workaholic, and has a fair work life balance. Whenever he finds the opportunity he sets out to travel to different countries and find adventurous activities to participate in.
It keeps the dreams alive, he says with his characteristic charm.