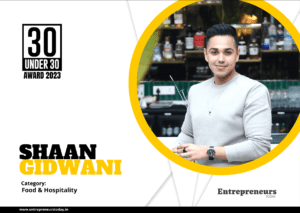 Paving the way for the hospitality industry, the 23-year-old Shaan Gidwaani, Founder and Managing Director of Acapella Hospitality is a dynamic, enterprising entrepreneur who has been felicitated with the Restaurateur of the Year 2022 & Young Restaurateur  the Year 2023, awards.
At a very young age, Shaan found the courage to venture into the cut-throat competition of the F&B world. He now plans to leverage his passion for great food, brand development, marketing, and design to establish and grow a variety of F&B brands across segments like resto-bars, cafés, and cloud kitchens. At Acapella, he plays an active role in the brand establishment, marketing, PR, operations, expansion and business development.
When asked about his current plans, he comments, "Apart from expanding my business across India, I am establishing my brands internationally as well."
What is it that drove Shaan to incept Acapella?
Shaan is making progress in creating a business with the ideal ratio of human and process-centric levers. He further adds,
"Empowering my employees and stakeholders across outlets, positions, geographies and idiosyncrasies is paramount for the growth and success of the business. Providing growth for all members of my team is very important to me. So, creating a foundation for team members to adopt a long-term perspective and work towards growing with the company with all their dedication, is a truly gratifying journey. Since, apart from monetizing my business and succeeding commercially, creating jobs and empowering individuals and impacting their lives, are as important to me.
More about his ventures
Acapella Hospitality is a diversified F&B company with brands that serve a wide range of customers. Additionally, they place a high priority on the experience and satisfaction of the end user through the expression of brands that brilliantly integrate exceptional food, beverages, branding, marketing, and PR and deftly identify, serve, and generate demand in each targeted market.
Amalgamating his penchant for food with his natural business acumen, Shaan has introduced some of the most genre-defining restaurant concepts.
"Establishing brands that resonate with my patrons, is essentially what I plan to do at Acapella. Whether it's through the electric Sunday Brunch at Café Panama, a romantic evening at Loci and Toot, lip-smacking sourdough pizza from Lil Gamby or wholesome buddha bowls from Hungry Buddha, each one of my products have a strong recall value, which I seek to further enhance."
Café Panama: The idea behind Cafe Panama was to bring a largely untapped culture and cuisine to the Indian market in a relatable yet unique way.
Loci and Toot: The aim of Loci and Toot is to spearhead Bandra's casual eating scene. Shaan says, "The genesis of the idea stemmed from the lack of a warm, cozy space in Bombay city that celebrates Mediterranean and European Cuisine in an easy going setting."
Lil Gamby: Lil Gamby's mission is to create a simple yet delectable pizza product and expand to at least 50 outlets nationwide. Sourdough Neapolitan pizzas and Panuozzo sandwiches are the USPs when it comes to their core products.
Hungry Buddha: A Pan Asian cloud kitchen brand, Hungry Buddha seeks to offer high value meals. Their menu selection is divided into a wide range of categories, including Bowls, Dim Sum, Stir Fry, Salads, and Dessert.
What are some of his achievements till now?
Some of his achievements till now include:
Shan was felicitated with the Young Restaurateur of the Year 2022
Being recognized as the 'Mid Day Restaurateur of the Year 2022'.
Cafe Panama got recognized as the "Mid Day Restaurant of the Year 2022'.
Loci and Toot received 'ET hospitality awards 2022' for a cafe with the best design and interiors.
Cafe Panama was named the 'Iconic Resto-bar of the Year' by Times Hospitality Icons.
Kokum was named 'Iconic Coastal Cuisine Restaurant of the Year.
Considering all the accolades he receives, was his entrepreneurial journey a smooth ride? When asked about the challenges he faced, Shaan says, setting clear SOPs for multiple business functions has been the most difficult aspect of his F&B journey.
"Until I figured out the importance of organizing different areas of my business in a systematic way, I was struggling to get things done effectively."
With a clear organisational structure, hierarchy and clearly defined roles for the employees he was able to organise his time and efficiently increase the productivity of the business and team.
Takeaways from the 20s
Being in his twenties, Shaan finds it difficult to take note of all the lessons as he believes there's still so much out there to learn and experience. However, he walks us through some of the key lessons that he discovered. He comments that being a good listener is crucial as it gives the impression that the people around you are appreciated and, at the very least, their viewpoints are being heard. He further adds that maintaining composure under pressure is important as tension, or panic makes it harder to cope with problems.  He believes that keeping calm in all conditions, therefore, is crucial for dealing with challenges and failures in both personal and professional life.
Finally, he maintains that good time management is also a skill that is directly connected with one's ability to stay calm. He says, "If you manage to plan and structure your day and your routine, it reduces the element of uncertainty that could potentially stress one out."
What are the future plans for the company?
Seven years down the line, Shaan envisions owning a wide range of F&B brands in the dine-in, delivery, and QSR segments. He looks forward to reaching a stage where all his brands are structured in an orderly fashion without the need for him to personally intervene in day-to-day operations. He adds, "Simultaneously I intended on developing, conceptualizing and growing existing brands that have the potential to become market leaders."