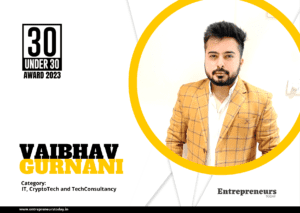 At Systango UK/India, Vaibhav Gurnani serves as Lead Frontend Architect and Tech Consultant. The work Vaibhav and his team primarily carry out there has a significant impact on the industry. Systango is a one-of-a-kind boutique agency that employs a specialized workforce to address complexity in areas like Edtech, Fintech, E-Commerce, CRMs, ERPs, and dashboards. Vaibhav has been working as a Lead Frontend Architect with US-based Web 3.0 dAPP (Decentralized Application) funded by Microsoft and Chainlink.
The services his business provides are Tech Consultancy, Digital Marketing, SEO Improvement, Web Development, App Development, Cloud Solutions, and Data Engineering.
In an interview with Entrepreneurs Today, he reveals that, in addition to being a techie at heart, attending music events and curating them have always been his hobbies since his college days. Additionally, he is the owner of Veni Vici Productions, a company that produces events and music. In essence, Veni Vici Productions curates shows for the world's top musicians from across the globe to India. They have worked with a range of artists including Amaan Nagpal, Akcent, Almost Human, Floyd Lavine, Coyu Music, Juliet Fox, Candice Redding, Gigee Music, Rashmeet Kaur & Olly Esse. Recently they did a massive post covid Holi show (HoliNation) that had over 9000+ attendees and have also done a vibrant music fest with Bollywood celebrity DJ Aqeel.
What are the lessons Vaibhav has learned in his 20s?
Vaibhav believes in the saying that the harder you work, the luckier you get, which has been the case with him as well.
He says, "I started my career as an intern and here I'm heading a team of multiple engineers working globally across projects in domains like EdTech, Healthtech, Fintech, Web 3, IoT, CRM, ERP, eCommerce. Working with unicorns in the industry like Space and Time, Waitlist, Stratomatic, RewardFlightFinder, PeopleTicker, and Textual.se."
He always says, "All work and no play makes me a dull boy,"  thus he always likes to keep a balance between work and leisure. He loves travelling, exploring new cuisines and places, and attending music festivals. The stereotypical notion that "techies are boring" is totally converse in his case, he says one can be an intellect/nerd and yet be a serial chiller post-work!
Achievements
Vaibhav talks about some of the business's latest accomplishments which include helping raise Space and Time $30M within 1 year of its inception. Target stores in the US have also used their Waitlist platform to alleviate the inconvenience that Black Friday/Thanksgiving brought about for customers. Furthermore, they responded to 30k+ queries in less than a minute. Also, their platform, Reward Flight Finder was used to tackle the Flight Rewards problem in the European market. He has even received the 'Best Employee of the Year' award recently.
The trickiest problem he solved recently was Data Visualisation with minimal processing cost on servers and handling them on the frontend (serverless), which had been a game changer on his latest project work.
He has been VP of the Human Rights Association of India as well and loves to contribute back to society. In the same capacity, he conducted various campaigns pertaining to Women Empowerment, Discrimination, Child Marriage, Child Labour, and Labour Exploitation. The notion being Vasudhav Kutumbakum (the whole world is family) "All humans are equal & free."
He even helped people during COVID with food staple/medicinal donations to NGOs & NPOs when the times were hard for people around him.
Rocky road
The most difficult time for Vaibhav has been when he had to choose whether to relocate to the United States to pursue his MS in Computer Engineering or remain in his own country and work for clients internationally.
"Decisions can either make you or break you. I'm glad that it was prior in my case, and I love what I do."
When he finished his engineering degree, Vaibhav wanted to become a pilot. He continues, "Everyone in their 20s wants to do a lot, and we are all in dilemmas sometimes, but it's what you do that you see yourself doing best in future endeavours that matters." As a result, he continued to thrive at what he was doing. He feels thankful for being able to solve complex problems across the globe and help people ease things in their daily lives through the power of technology. He also adds, "My mom always says nothing is IMPOSSIBLE," The word itself says, "I'm Possible" which he really manifests and believes in.
The future looks bright
Seven years down the line, Vaibhav finds himself growing, evolving, and hustling but never giving up. He hopes to become a CXO in his early 30s.
Finally, he points out that India is expanding exponentially in the tech sector and presents many opportunities for growth. He claims that Bangalore, which caters to a large number of startups each year, is the next Silicon Valley.
We can seek education abroad if necessary, but when it comes to work; our first priority must be our nation. This way, we can make India the next superpower with the kind of youth and talent that we harbour.