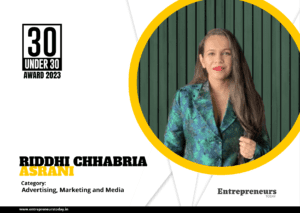 Founder of All Stars Digital, Riddhi Chhabria completed her Bachelor's in computer engineering from Thadomal Shahani Engineering College, followed by a Master's in Integrated marketing from New York University.
Entrepreneurs Today caught up with her, and in a conversation, she reveals that she has been running this agency for 4 years and is looking forward to launching a design-on-demand software, Rixero, in the month of January this year.
Riddhi has already worked in corporate for two to three years prior to starting her own business. Things commenced when her father suggested she start her own business and work for herself instead. However, was it a smooth transition? Riddhi says,
"I was conflicted because I really wanted to continue and stay in NYC but when I look back I'm glad I took the decision to return home and start my own company."
What are the services provided at All Stars Digital?
In today's fiercely competitive business environment, All Stars Digital, a specialised Digital Marketing and Brand-scaling agency, gives brands unrivalled benefits. The services provided include Performance marketing, Google Search Campaigns/SEM, Social Media Campaigns, Influencer Marketing, A+ pages / Amazon Ads, SEO, and Branding. Under branding, they offer services for Social Media Page Management, Influencer Marketing Campaigns, Brand Awareness Campaigns, Brand Establishments, Content (Reels, Banners, Videos and Creatives), and Social ORM.
What are some of her accomplishments till now?
Since the inception of the company, they have come a long way and now All Stars Digital has 60+ full-time employees, and offices in Mumbai, Ahmedabad and Delhi. They work with a multitude of listed companies and multiple international brands. They have worked with 200+ businesses over the past 4 years and currently have 50+ active clients.
Did Riddhi face any challenges in her journey?
"An entrepreneur always searches for a change, responds to it, and makes it an opportunity."
According to Riddhi, the biggest impediment she had to overcome was that in 2020, as of the first of March, they had 42 active clients. However, this number dropped to 30 within the next 15 days, and then further to 18 by the end of the month.
With a team of 22 full-time employees, they only had 6 clients on April 10. As one would expect, she was concerned if she would be able to keep her business afloat. She adds, "But then, we started targeting the e-commerce brands and adapting to the unprecedented times – and here we are changing the marketing game."
Riddhi proudly shares that considering how uncertain and unsettling things were during COVID and given that other agencies complained that their teams were leaving and changing jobs due to pay cuts, her team put in extra effort into making things work despite a 40% pay cut in their salary. Riddhi is very proud of the work culture and the relationships she has built in her company and extends her gratitude to the team that worked endlessly for the company to come out stronger than ever.
What holds in the future for Riddhi Chhabria?
Even a few years down the line she still envisions her hustling. She has already begun planning the launch of Rixero, her second venture. It is software that provides any design at incredibly low prices and within 24 hours.
She further adds that the purpose of Rixero is two-fold. According to Riddhi's personal experience, a large number of people struggle with their design requirements, either because they don't receive their designs on time or because they have to pay exorbitant prices. Both are assisted by Rixero, which is very inexpensive and guarantees same-day delivery of everything. Rixero helps with both, is reasonably priced, and guarantees same-day delivery of all services.
They will provide services globally and will necessitate a large number of designers. 500–600 independent designers will work with Rixero as part of a designers guild, with a steady income stream and assisting with platform operation.
"I hope that in the next 7 years, I manage to determine things that are needed and start companies that'll offer solutions."
What are some of the lessons Riddhi has learned in her journey?
Some of the major takeaways from her 20s is that you have to believe in yourself and hustle.
"When I was in my early 20s everyone doubted my every move, whether it was going to the states or leaving my job in NYC to come and start my company here. Except for my parents and my brother, everyone constantly suggested doing something else."
But she had self-confidence and put a lot of effort into her work, not to convince others that she was right but rather to convince herself.
Finally, she asserts that one should value skills over a degree. She notes, "I have never hired someone because they have a marketing background or a degree in a relevant field. Communication skills and creativity can take people to places."