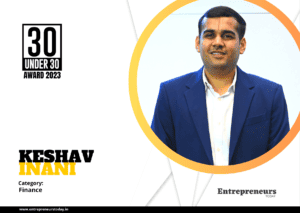 Keshav's journey began in the serene village of Guledgudda in Karnataka, eventually earning the title of Chartered Accountant (CA), and finally leading to setting up his own venture. 
In an interview with Entrepreneurs Today, Keshav talked about his journey so far and what his venture is all about. 
His venture, Vananam is a progressive conglomerate that is set to revolutionize the business landscape. Founded in 2021, their goal is to identify, finance, and mentor businesses for exponential growth. The aim is to achieve a staggering Rs 4 lakh crore conglomerate within the next five years. 
The Early Years
After his early education in Bangalore, Keshav fixed his aspirations of becoming a chartered accountant, a dream he carried from a young age. 
With the completion of his 12th grade, he wasted no time in pursuing this ambition. He embraced the challenging road, dedicating 10-12 hours daily to his studies. His diligence paid off when he achieved the CA designation at an impressive age of 21, successfully passing the exams on his very first attempt.
Keshav's career took a significant leap when he secured an articleship with KPMG, one of the world's foremost firms in accounting and auditing. This opportunity not only furnished him with invaluable practical experience but also recognized his dedication with an attractive salary, solidifying his reputation as a promising professional in the field.
Finding Inspiration
After leaving his position at KPMG, Keshav's inspiration came from a burning desire to create something of his own and make a meaningful impact. His time at the global auditing giant had equipped him with valuable insights into the startup ecosystem, igniting a deep passion for their potential for rapid growth and innovation.
Without a grand epiphany, Keshav followed his inner calling and ventured into establishing his own firm. His mission was clear and resolute: to nurture startups, providing them with the guidance and support necessary to become the unicorns of the future. He believed in the transformative power of startups and his dedication to helping them reach their full potential.
Keshav's decision to embark on this entrepreneurial journey is a result of his vision, determination, and willingness to take calculated risks in pursuit of his passion. 
About Vananam
Keshav reveals that the name "Vananam" draws inspiration from the Sanskrit word for wealth, underscoring their core focus on generating prosperity. In a rapidly changing business world, their dedication to building futuristic, global, and scalable enterprises aligns perfectly with the evolving dynamics where innovation and adaptability are the keys to success.
Vananam's leadership is in the hands of a group of dynamic and visionary young leaders, backed by a highly motivated and efficient team. Together, they're on a mission to create wealth for all the stakeholders and drive growth in the business ecosystem. With their exciting and impactful approach, Vananam is poised to make a significant difference in the years to come.
The USP
Their business approach is distinctly forward-thinking. They invest and build in businesses poised to thrive in dynamic markets, led by strong founding teams. Beyond mere profit, they prioritize shared prosperity, offering fair compensation, quality products, and ethical partnerships. Strong ethics and governance are core, fostering trust and credibility. 
They integrate these principles, promoting responsible practices and ensuring long-term success. It's a holistic approach, valuing the well-being and integrity of all stakeholders, not just financial gains.
Challenges Faced
One of the initial challenges they faced included hiring employees. Keshav says,
"Asking them to leave their jobs and join my new venture. The first three team members joined only based on mutual trust.
Furthermore, getting investors posed another problem. He reveals, 
"Our first investor later joined Vananam full-time as a founder. All the initial investors have not only increased their investments multifold – but also stayed from the beginning."
Scaling up the business was difficult. So, for almost two years, they strived hard to identify the right set of leaders for the teams, winning customers, opening up new geographies, and getting more investors. Along with this, they keep a "close watch on profitability while supersonic growth."
Achievements So Far
In a matter of two years since its inception in September 2021, Vananam has demonstrated remarkable growth and diversification by establishing five diverse verticals, expanding its team to 197 employees, establishing international offices, and achieving a significant turnover of USD 100 million in the last financial year, underscoring its ability to adapt, innovate, and succeed in a short period.
Plans Ahead
Vananam's future vision is resolute and ambitious, with a commitment to evolving into a global conglomerate that positively influences myriad stakeholders, contributing to India's journey towards becoming a US$10 trillion economy. Their strategy involves continuous scaling of existing businesses, exploration of emerging markets, and a focus on futuristic technology and innovation. 
They embrace social responsibility through the Vananam Foundation and prioritize wealth creation for all stakeholders, reflecting an inclusive approach to business that extends benefits to employees, partners, and the wider community, all anchored in their unwavering belief in their ventures' potential for growth and impact.
Lessons Learned
One of the lessons he has learned is that the bedrock of any organization lies in its people. Employees' skills, dedication, and creativity are catalysts for innovation, productivity, and customer satisfaction. Attracting, retaining, and nurturing top talent are imperatives for a business's prosperity.
He also believes that a close connection must exist between employees and customers. Businesses must grasp and fulfill their customers' needs and expectations. A contented customer base contributes to enduring profitability and growth.
Moreover, the welfare and job contentment of employees are of utmost importance. Content and engaged employees often translate to enhanced productivity, innovation, and commitment to the company's success.
Keshav explains that enterprises should strive to generate value for all members of the value chain, extending beyond shareholders to encompass employees, customers, suppliers, and the community. An emphasis on stakeholder value can pave the way for sustainable growth and positive societal impact.
Furthermore, while growth is a pivotal goal, it must be both sustainable and profitable. Profitability ensures an enterprise's capacity to reinvest, reward stakeholders, and withstand economic challenges.
Lastly, profitable growth over the long haul often surpasses the value of short-term gains. To achieve enduring success, a business should possess a well-defined vision, strategic planning, and an unwavering commitment to its core values.