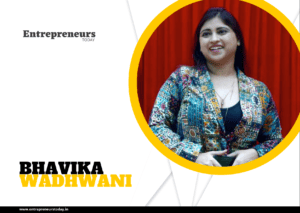 "I am never out of hope. Even when I say I'm tired of trying, you will see me working on it one more time. There is no such thing as the last time, the last hope, or the last try for me. Giving up is always an option, but never my choice."
Looking back at how Bhavika's journey began, she walks us through the intricacies of her experiences. 
Entrepreneurs Today got in touch with Bhavika Wadhwani, a multifaceted professional with a diverse range of expertise in the business and legal spheres, to learn more about her journey so far. 
Current ventures
Bhavika has founded an array of ventures, including ByAndLarge.in, which focuses on corporate supply wholesale and promotional products, and Bexnes.com, specializing in the manufacturing and export of cotton caps, bags, and aprons. 
She also heads Customize.byandlarge.in, an e-commerce platform tailored for bulk orders with product personalization features, and Gemstones.ByAndLarge.in, offering a vast selection of precious and semi-precious gemstones.
Bhavika's background
In addition to her business endeavors, Bhavika holds a prominent role as a Cyber Law advisor. She is well-qualified, having graduated from the International Gemology Institute in 2023 with a Gemology degree, earned a PGD in Cyber Law and Cyber Forensics from the National Law School of India in 2019, and completed her undergraduate studies at Christ University in 2014.
Bhavika divulged that before she got into entrepreneurship, she was initially considering a career in corporate or civil law due to her early interest in the legal field. 
The reason she got into law was because of the need for a deeper understanding of contracts and legal aspects relevant to her business.
Entrepreneurial spirit
"I belong to a Sindhi family, and it is known that business runs in our blood."
Bhavika reveals that her inspiration for entrepreneurship is rooted in her family, where business acumen runs deep in the family. Growing up in a business-oriented household, Bhavika found her calling as a businesswoman.
Given her responsibilities, Bhavika has to juggle multiple roles, including cyber law advising and business management. The key to doing this, according to her, is being disciplined and sticking to a schedule that works well for you. 
In terms of why she founded Customize.byandlarge.in, Bhavika says, 
"Corporate gifting is an unorganized industry. I'm trying to make it as organized as it can be."
It was the unstructured landscape of corporate gifting that needed a solution. With a dedicated quality control team, efficient production staff, and top-notch customer support, they ensure a seamless experience for clients. 
Their e-commerce platform streamlines the customization process, making business gift procurement hassle-free. Bhavika believes the reason they are unique is because of their offerings. She asserts, 
"Each client is serviced and provided something unique and different from others. In over 8 years of my business, we have built a trust among our clients that is unbeatable."
Creating an impact
Regarding her corporate gifting business, Bhavika's emphasis on personalization has had a positive impact on her clients. Notably, it has contributed to improved employee retention for companies during the pandemic. She adds, 
"In a time when employees were working remotely and long hours, personalized gifts helped boost morale." 
Even in the case of large corporations with thousands of employees, Bhavika's team meticulously ensured that each gift was customized with the recipient's name, size, and other specific details. Bhavika explains, 
"This level of personalization, coupled with precise tracking and delivery, made employees feel valued and appreciated, even in remote areas where some employees worked from home."
Achievements so far
"I wouldn't count anything as a challenge. I name them opportunities."
Challenges for Bhavika are stepping stones for growth. Her achievements include media mentions in Zee, DailyHunt, CEO Insights, and KTCC, as well as the impact made in her employees' lives. 
Being able to create a workplace that promotes work-life balance, personal development, and economic well-being for her staff is also a major milestone. 
However, the true measure of her success lies in serving a client base of 3,000 trusted corporate partners, most of whom keep coming back to them. 
Plans for future
Bhavika's future plans align with her vision of India becoming a prominent manufacturing hub on the global stage. She aspires to transform India into being the "office of the world" as well as the "factory of the world." 
To realize this vision, she intends to establish manufacturing units producing various products for global distribution, thereby contributing to India's foreign currency reserves. Her overarching goal is to bolster the Indian economy by fostering significant growth in the country's manufacturing sector.
Lessons learned
Bhavika's journey has taught her the value of consistency and hard work, emphasizing that these traits can lead to long-term success. 
Another aspect that Bhavika believes can make or break a business is the ability to take risks, even when things seem to be comfortable. She says,
"Going out of your comfort zone makes all the difference."
Lastly, she adds that as long as you are living a disciplined life and have a daily schedule, you will be able to find a balance in both your personal and professional lives.