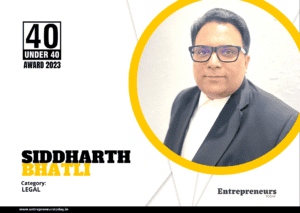 Siddharth Bhatli, a first-generation lawyer, established LexLis Law Offices in 2015, specializing in commercial law. The practice is headquartered in Delhi with satellite offices in Mumbai and international branches in Dubai. They focus on Commercial law, Insolvency law and Arbitration law, business setups, startup incubation, funding, structuring agreements, insolvency law, arbitration, and recovery proceedings and white collar crimes.
With a dedicated team of young professionals, Mr. Bhatli's firm has made significant strides in the commercial sphere specialising in real estate sector by aiding companies facing insolvency and reviving distressed projects. Their efforts have attracted international investments and offer hope to homebuyers waiting for resolution. His practice is clearly making a notable impact in the legal field over the past 17 years.
Finding your true calling
Siddharth Bhatli's journey into law was influenced by his early passion for diverse interests in various fields of human habitat. Despite excelling in various disciplines during his school years, he ultimately chose a career in law after ranking among the top candidates and receiving a scholarship for his legal studies. 
The pivotal moment came during a discussion with his father, who recognized his talent for public speaking and encouraged him to explore the vast ocean of opportunities that law presented. 
With a background in science and the assurance of a scholarship, Mr. Bhatli made the decision to pursue a legal career, and he immediately found his passion within the subject matter of law, setting him on a course he knew he would follow for the rest of his life.
Navigating the industry
When he began his practice, he often found himself going up against established players with top law firms and lawyers. However, over time, his dedication and expertise led to a reversal of roles, with builders seeking his services. Mr. Bhatli started growing in the real-estate field during the aftermath of the 2008 financial crisis, which left the real estate market in distress. This challenging environment provided his practice with opportunities to work with prominent companies, both in India and abroad.
Throughout the years, Mr. Bhatli's practice evolved, adapting to market fluctuations and emerging areas of law, including insolvency. The COVID-19 pandemic further impacted several sectors including the real estate sector, leading to additional demand for his expertise across different industries sectors.
His specialization and experience in commercial real estate law has been both enriching and enabling, establishing his firm as a go-to resource for clients seeking counsel on a range of commercial issues in this dynamic field.
Ahead of the curve
Mr. Bhatli's practice remains at the forefront of legal developments, staying ahead of the curve and actively influencing changes in legislation when necessary.
By continuously engaging in legal matters, they observe how laws evolve and adapt. In fact, their involvement often goes beyond mere compliance, with the firm offering suggestions and objections to industry bodies, government authorities, and legislative changes and suggestions.
As an example, they successfully secured a project-wise insolvency order for a major builder in Delhi, despite the law not originally providing for such cases. This achievement prompted the government to propose a bill in parliament to amend the law, specifically addressing project insolvency. Mr. Bhatli's practice remains at the forefront of legal developments, staying ahead of the curve and actively influencing changes in legislation when necessary.
A day in Siddharth's life
Siddharth's professional day is characterized by its unrelenting pace. It commences with court proceedings, which are a significant part of his practice. Following this, he returns to his office, where he conducts consultations and conferences with clients, often stretching into the evening. Evenings are dedicated to extensive case preparation, as he methodically readies for upcoming legal matters. 
Siddharth's days are intensive, spanning approximately 28 days each month, interspersed with travel as he manages his offices in different locations. During these trips, he adeptly combines client meetings and legal work, highlighting his dedication to delivering top-notch legal services.
Achievements so far
Siddharth Bhatli has achieved significant milestones throughout his career. Notable accomplishments include:
Commonwealth Games Monument Study: In the early stages of his career, Mr. Bhatli played a pivotal role in studying and submitting a report on monuments in Delhi during the Commonwealth Games resulting in guidelines issued by the Apex Court for conservation and protection of same.
Anti-Corruption and White Collar Practice: As an independent practitioner he conducted various high profile & media trials including CBI trials, Cyber Law cases, Company Court matters involving huge sums of Siphoned money and Arbitrations in commercial infrastructure and real-estate laws.
Influencing Legislative Changes: Mr. Bhatli and his team have actively participated in discussions related to legal amendments. Their advocacy has resulted in proposed bills and legislative changes to address critical issues, such as presently pending bill on project-wise insolvency in real estate.
Reviving Distressed Real Estate Projects: Mr. Bhatli's firm has successfully managed the insolvency of several real estate companies with stalled projects, securing funding through distressed asset funds. As a result, thousands of homebuyers have received their properties, marking a significant achievement in resolving complex real estate issues.
Although Mr. Bhatli has received awards and media mentions, he tends to downplay personal recognition, preferring to dedicate accomplishments to his organization and team. However, his work has been widely covered in various media outlets, and he has also been recently nominated for awards such as the LexTalk Award in the commercial space.
Plans forward
Siddharth Bhatli's future plans for LexLis Law Offices involve expanding their international presence and diversifying their practice areas. Specifically, the firm aims to:
Strengthen International Presence: Building on their existing practice in Dubai, the firm plans to further develop its expertise in cross-border transactions Business Setup, dispute advisory and international insolvency. 
Diversify Practice Areas: The firm is not limiting itself to real estate and commercial law. They are venturing into areas such as startups, banking, finance, dispute resolution, cross border recoveries and merger acquisitions. 
The overarching vision is to grow LexLis Law Offices into an internationally recognized, multidisciplinary law firm, working across borders and contributing to the global legal community, while maintaining an excellence in practice through above verticals across India.
Lessons learned
Siddharth Bhatli has gleaned invaluable lessons from his legal career. He firmly believes in the relentless pursuit of one's goals through hard work and resilience, even during challenging times. Honesty and integrity are core principles he upholds, fostering trust and credibility in all his endeavors. 
Mr. Bhatli also emphasizes the virtue of patience, understanding that success may not be instantaneous but is an eventual product of dedication and diligence. These lessons serve as the foundation for his continued journey in the legal profession.