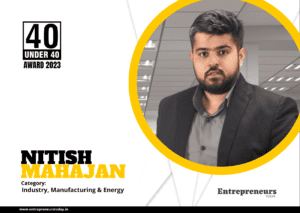 Nitish Mahajan, co-founder of Balaji Loomtex Pvt. Ltd., along with Nikhil Mahajan, has been a driving force behind the resurgence of micro polyester flannel blankets in the Indian market. Their journey is further enriched by the significant contributions of Mr. Uttam Gupta, who joined as the third partner. With an illustrious career spanning two decades in product development, production, and channel management, Mr. Gupta brought a wealth of expertise to the table.
About the Company
Balaji Loomtex Private Ltd. has spearheaded the revival of micro polyester flannel blankets in the Indian market, emphasizing the "Make in India" initiative. Founded in 2017 in Panipat, this company focuses on local production, challenging the dominance of Chinese imports.
The Mahajan Brothers and Mr. Uttam Gupta
The trio, consisting of Nitish and Nikhil Mahajan along with Mr. Uttam Gupta, collectively spearheaded a remarkable transformation in the home textile industry. Their combined efforts not only significantly contributed to the Make in India Movement but also helped the government save foreign exchange by reducing reliance on Chinese imports for flannel blankets.
Nikhil, who shares an equal stake in the company with Nitish, adeptly oversees production and crucial back-end operations, leveraging his prior experience in banking to ensure the company's success. Mr. Uttam Gupta, on the other hand, brought his extensive experience in product development and channel management, ensuring the company's expansion and sustained growth. Nitish, having transitioned from a career in banking to assume full-time directorships at Balaji Loomtex Pvt. Ltd. and its subsidiaries, collectively boasting an annual group revenue exceeding $500 Crores, brought a wealth of practical experience and strong leadership qualities to the team.
Their Legacy of Quality
Since 1980, the Naveno Woolens brand has been synonymous with stylish, high-quality blankets and bedding, proudly designed by a family-run company. Today, Balaji Loomtex Pvt. Ltd. stands as the conscientious offspring of this seasoned family business with deep roots in the textile industry.
Under the triumvirate of Nitish, Nikhil, and Mr. Uttam Gupta, Balaji Loomtex Private Limited has established itself as a dedicated and esteemed blanket manufacturer in Panipat, operating under the brands Gulmohar and the recently launched Urban Wrap.
Their Challenges and Resilience
Their journey wasn't without challenges. Shortly after venturing into the textile business, a devastating fire threatened to halt their operations. However, rather than giving in, they rolled up their sleeves and, within a mere three months, were back in full production. This determined spirit, bolstered by Mr. Uttam Gupta's expertise in product development and production, has been a hallmark of their path to success.
Ambitious Vision
When asked about their future ambitions, they shared an ambitious vision: to become the driving force behind the top 10 textile companies listed on the stock exchange in the next decade.
Lessons Learned
In his 20s, Nitish Mahajan gained invaluable insights that have shaped his journey as an entrepreneur. He learned to invest in experiences rather than material possessions, recognizing that dreams often demand sacrifice. To the next generation of budding entrepreneurs, his advice is simple yet profound: "Know your industry better than anyone else."
Their words reflect a holistic approach to success that extends beyond financial achievements, emphasizing the impact and opportunities created for others, thanks to the remarkable teamwork of Nitish Mahajan, Nikhil Mahajan, and Mr. Uttam Gupta.