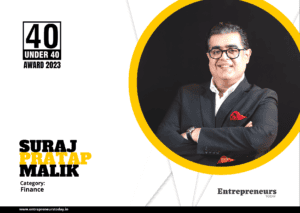 The mantra Suraj Pratap Malik, the whole time Director in the company Infomerics Valuation and Rating Pvt Ltd., lives by is,
"I have learned that failure is not the opposite of success but is an integral part of success."
Entrepreneurs Today had the opportunity to delve deeper into what it's like in the domain of credit Rating business and to learn more about how Suraj Pratap Malik has been able to etch a name for himself within this very domain. 
In the interview, before we moved headfirst into what Mr. Malik is doing and what the company is all about, he walked us through what it's like in the Credit Rating Business in the present day for more context. He reflects,
"The Credit Rating Business is by and large an oligopoly market with only seven players, with us being one of them. Also, the very domain in India was dominated by Western credit rating agencies, which carried with them decades of experience. Given this scenario, acceptance of home-grown credit rating agencies among the stakeholders was challenging."
However, the situation in India had to change for the better, and that is pretty much the factor that led him down the path. 
Suraj Pratap Malik's background
Mr. Malik is an alumnus of Modern School and Amity University, Delhi, and holds a management degree from Cardiff University, UK. Hailing from Delhi, the person who nurtured the entrepreneurial spirit within him was his father, a renowned Chartered Accountant.
With a rich background in banking and finance, Suraj has a penchant for converting opportunities into conclusive deals through a pragmatic approach. As an integral part of the company, he has played a significant role in the company's growth since its establishment in 2017, having obtained registration from SEBI and accreditation from the Reserve Bank of India. 
It would be an understatement to say that the company has seen substantial progress year after year under his guidance.
When asked if there were any other contributing factors that propelled him in that direction, he said,
"I was fortunate to belong to a family of third-generation bankers who were into financial services. I have seen my grandfather and, thereafter, my father scale great heights in the financial business market. I drew inspiration from my father, who held several important positions, including those on the Board of Governors, the Reserve Bank of India, and Board Level positions in several public and private sector undertakings and corporations."
While talking about everything that played a role in molding him, Mr. Malik further added, 
"I was inspired to start a home-grown credit rating agency and be on par with the Western rating agencies, and I strongly believe in the Make in India, for India, and by India concept."
A unique approach
Suraj Pratap is a strong believer in doing their own part rather than getting stuck in a rat race and comparing their journey with others. He says,
"To maintain high standards of probity, unlike our competitors, we have an independent External Rating Committee to assign ratings, and the financial analysis is driven by artificial Intelligence. We have a highly erudite and experienced Board of Directors who have excelled in Banking, Finance and Administrative service."
What keeps him and the company going is the strong support system he has built over the years. His team currently consists of a distinguished Board of directors and experts in banking, finance, and administrative services. Mr. Malik acknowledges, 
"We have developed a team of diligent and dedicated professionals who are the driving force in achieving our vision and beyond."
Not only that, in a relatively short period, they have garnered trust, expanded their knowledge base, and were able to build credibility.  
Challenges faced
Since the world of credit ratings is filled with high stakes, they had their share of challenges along the way. As revealed by Mr. Malik earlier, one significant challenge they had to navigate was gaining a foothold in a market that is dominated by well-established Western credit rating giants. It seemed rather impossible in the very beginning to break through and get accepted by a home-grown credit rating agency. 
So, as we see, the initial penetration was pretty daunting, and the journey has been anything but a cakewalk. What made them push forward despite all odds was their drive and dream to carve a niche for themselves. 
It did not take them long to realize that it was not just their business strategy that would lead to their success but also their commitment. As Mr. Malik affirmed, they needed to "Put their heart into the business and the business into their heart."
Celebrating feats
Despite the challenges, it can be agreed that their journey was marked by small victories that inched closer to their grand vision. 
Given all that the company has achieved till now, it led us to ask Mr. Malik what success truly meant to him. He shares,
"We believe that success is not measured by just numbers in terms of turnover. We strongly believe that Success includes various components – Growth, Ethics, Humanity, morality and above all spirituality."
From their humble beginnings with just a few professionals on their team, their rapid expansion into major metropolitan areas and nationwide representation spoke volumes about their success and the work they were doing. 
Despite everything, what mattered to them was the respect and esteem they garnered from conglomerates, investors, the banking sector, and other stakeholders. Soon enough, they were able to build credibility and trust with key players in the financial sector. 
Plans ahead
In terms of what we can expect from Infomerics Valuation and Rating Pvt Ltd. in the near future, their immediate aim is to gain a foothold as the first credit rating agency to assign sovereign ratings.
Other than that, they also aim to be one of the most credible and largest credit rating agencies in the world. He further reveals, 
"We want to compete with the Western credit rating agencies by first establishing ourselves fully in Southeast Asia. As the first step, we have commenced operations in Nepal, have a structured plan to establish operations in other countries as well, and are waiting for the necessary approval. We further want to achieve Global dominance by achieving a continuous learning process and giving 100% of our efforts."
Lessons learned:
Given that it has been a long time since he began his professional career and entrepreneurship, his journey has been quite enriching. One of the important lessons he has learned is the power of perseverance and hard work. He has learned that failure should not be looked down upon but rather seen as a stepping stone. He acknowledges that success is always a blend of inspiration (10%) and relentless effort (90%).
Furthermore, Suraj emphasizes the significance of teamwork, meticulous planning, goal-setting, and adaptability to technological advancements as the building blocks for success. Lastly, he adds,
"Remember the old age advice that the difference between dream and aim is that dream requires effortless sleep and aim requires sleepless efforts. Sleep for your dreams, and wake up and chase your dreams to achieve your aim."