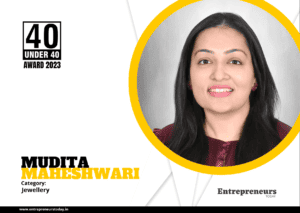 "Jewelry is not merely a piece of accessory; it is the amalgamation of confidence, charm, beauty, and elegance that caresses you, making you feel unique and exuberant. Each scintillating piece from SwayambyMudita possesses an everlasting and exhilarating effect."
These are Mudita's words about what she believes is at the core of her label, SwayambyMudita.
Mudita, a native of the illustrious "Pink City" of Jaipur, has forged a name for herself and her label in the jewelry industry. 
But how did she get started?
Raised amidst a family deeply rooted in the same industry, quite naturally, Mudita's affinity for jewelry was nurtured from a young age. As a result, growing up with a lineage deeply rooted in the industry, she absorbed the nuances of the trade with a discerning eye. 
It was in 2022 that she marked the beginning of translating her lifelong passion into reality. The year saw the inauguration of her brainchild, SwayambyMudita—a Jewelry Boutique with a distinct twist. Operating across Dehradun and Jaipur, she has been able to garner positive feedback for her work in no time. 
Today, her boutique boasts an impressive 92% rate of contented repeat clients, which speaks of her strive for excellence.
What sets them apart?
Offering an array of diamond, diamond polki, and gold options, the brand caters to a diverse clientele seeking the perfect adornments for various occasions. From exquisite gifting pieces to grand bridal sets, their collection resonates with the celebration of meaningful bonds.
SwayambyMudita also specializes in the domain of customization services, breathing new life into cherished heirlooms and crafting captivating statement pieces. With prices that astonish and an unwavering commitment to exceptional quality, Mudita prides herself on setting the label apart in the market.
At their showroom, client comfort is paramount, complemented by their unmatched hospitality. Their reach even extends beyond the physical space, catering to clients beyond the walls.
Apart from their bespoke offerings, their ready-made collection stands as a testament to timeless elegance. The allure of a SwayambyMudita necklace accentuates necklines with grace. From diamond-studded pendants to versatile Polki chokers, each design captures attention, ensuring the wearer feels truly beautiful. Mudita says,
"I stand firmly by my brand's tagline, aiming to help our clients fall in love with themselves all over again."
Overcoming challenges
Mudita's journey has not been a cakewalk, and her resolve and ingenuity have been tested numerous times. The arduous task of carving out a loyal customer base in a densely populated jewelry market posed a challenge. Amidst a plethora of competitors, she confronted the ordeal by distinguishing her brand from the crowd.
Trust is of paramount importance in the realm of jewelry, and Mudita soon adopted a transparent approach. She encouraged her clients to verify the quality and prices of her pieces, with the assurance of returns if disparities emerged. This emphasis on integrity and customer confidence paved the way for her brand to win the admiration of numerous patrons.
Mudita further expresses,
"Sourcing quality materials posed another substantial challenge. I recognized that the materials utilized in my creations would wield a pivotal influence in establishing the overarching quality and allure of my jewelry. To surmount this obstacle, I dedicated considerable time to research and cultivating relationships with reputable suppliers. This approach not only guarantees the integrity of my products but also enables me to present distinctive designs that distinguish my brand."
Celebrating feats
According to Mudita, the success of the company can be gauged significantly by a notable 92% rate of repeat customers, reflecting the strong affinity cultivated. Alongside financial accomplishments, this underscores the endorsement of the designs within the intended audience.
Their recent noteworthy achievements involve securing the Women Leader of the Year award at the esteemed Global Empires Awards. The accolade substantially bolstered the brand's credibility and visibility, firmly establishing its leadership position within the industry.
Plans ahead
Mudita's future plans reflect an intent to elevate business success strategically. The expansion of the product line stands as a pivotal goal, with innovative designs aimed at both current and prospective customers. They are also looking forward to collaborating with other artisans and designers to infuse fresh perspectives into their creations.
Geographical reach is also a focus. They want to capitalize on current achievements and establish luxury boutiques and online platforms in other cities. This is to ensure wider global access while preserving the brand's exclusivity and quality.
Moreover, they also plan to establish an enriched online presence with a user-centric website, virtual try-on capabilities, and informative content that shares design narratives.
Mudita also anticipates year-on-year revenue growth and team expansion by staying attuned to market dynamics and customer preferences. This will be done to sustain the label's relevance and innovation.
Lessons learned
In her journey as a jewelry designer, Mudita learned essential lessons that significantly contributed to her success. Among these, persistence and resilience emerged as paramount virtues, as the competitive landscape demanded unswerving dedication and determination from her end.
Adaptability became a cornerstone lesson. Mudita realized the necessity of remaining flexible in the face of evolving market trends and changing customer preferences. This helped her refine her designs and business strategies, ensuring her brand's enduring relevance.
Building robust relationships also proved vital, as networking within the industry facilitated connections with suppliers, fellow artisans, and potential collaborators. These relationships not only granted access to quality materials but also opened doors to new opportunities and partnerships for the business.
Throughout her journey, Mudita also recognized the importance of actively listening to customers. Attuning herself to feedback and understanding customer desires helped her create pieces that people genuinely loved.
Lastly, for budding entrepreneurs, Mudita signs off by saying,
"I would emphasize the importance of believing in one's creative vision. I would encourage them to stay dedicated, work hard, and not be deterred by initial obstacles. Being open to learning from mistakes and seeking guidance from mentors can accelerate growth and development.
Above all, I would convey the message that success is not instantaneous, but rather a result of continuous effort, innovation, and a genuine passion for the craft. My journey taught me a lot and I believe that all aspiring entrepreneurs should dream big, persevere, and carve their own paths to success."