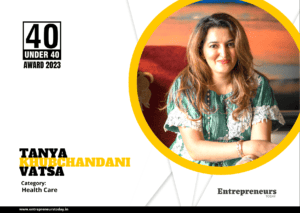 "As an entrepreneur, it's crucial to brace yourself for moments when failure seems imminent."
In a freewheeling chat with Entrepreneurs Today, Tanya Khubchandani Vatsa talks about what it's like to be an entrepreneur today as she walks us through the nitty gritty of the ventures she is running. 
Looking back at how it all began, Tanya shares that she waited for a few years until she completed her Master's in Public Health from Columbia University and degrees in economics, psychology, and English from the University of Pennsylvania to get started on her entrepreneurial journey.
Her brand, Elixir Wellness, initially began as a healthcare and wellness startup and transitioned into a venture boasting 21 centers spread across Mumbai and Bangalore. Regarding the specialty of her company, she says, 
"Our distinction lies in being pioneers in luxury wellness, presenting an extensive range of services encompassing IV therapy, athletic recovery, pain relief, aesthetics, and much more."
Jack of all trades
Juggling many hats, Tanya is also the driving force behind Khubchandani Healthcare and oversees the operations of the HCG ICS Khubchandani Cancer Centre and HCG ICS Khubchandani Women's Health Centre.
In addition to being associated with the healthcare domain, Tanya is also a notable author and content creator in the parenting and luxury lifestyle domains. 
Her debut book, "All You Need to Know about Parenting," published by Penguin Random House in May 2019, reflects her expertise. Her other written work can be seen in various publications, including Conde Nast Travel, India Today, Mother and Baby, and Thrive Global.
About Elixir Wellness
A comprehensive wellness destination, Elixir Wellness provides solutions spanning recovery, skin care, preventive care, and anti-aging. 
They also have a dedicated team of doctors who offer personalized treatments, including IV therapy, cryotherapy, hyperbaric oxygen, body toning, non-invasive facelifts, platelet-rich plasma treatments, facials, and an array of wellness services like cryotherapy, oxygen therapy, and compression therapy. 
Tanya echoes the core values of Elixir Wellness. She shares,
"Elixir is deeply committed to delivering the latest, most effective treatments for both inner health and outer beauty. We are dedicated to offering the finest in technology and medicine, enabling you to embrace your optimal self day in and day out. Our mission is to counteract the impacts of environmental factors, genetics, and aging as comprehensively as possible."
Their yardstick of success is all about seeing their happy clients step onto the scale after losing 10 kilograms all within a month through their nutrition and body toning program. Likewise, receiving feedback from their clients on being able to beat migraines, insomnia and getting that perfect radiant skin propels them to push forward. 
Finding Inspiration
The contributing factor that shaped the desire to get started in the healthcare sector was the years of experience she had in the domain when she was living in New York and the Bronx. Tanya further added, 
"One striking difference I observed between these contexts and India was the approach to healthcare. Abroad, the emphasis lay on wellness visits and preventive care, whereas in India, the focus often shifted to reactive interventions when someone fell ill. In other countries, whether dealing with chronic conditions or not, routine wellness visits and therapies like IV treatments were integrated into people's lives. This was an unfamiliar concept in India."
Tanya says that it was during the COVID-19 pandemic that she found her true calling when she witnessed the daily struggles of dialysis and cancer patients. The situation hit home, as some in her family had previously struggled with these conditions. 
What came next was extensive research to explore international therapeutic approaches. One of the breakthroughs was finding a solution to migraines. Tanya asserts,
"I experienced some of these therapies firsthand. Notably, an immunity-enhancing therapy involving glutathione brought about an unexpected outcome—a marked reduction in the frequency of my debilitating migraines, which had plagued me for over a decade."
Following the significant milestone, she had to delve deeper into the work of therapeutic formulations. By collaborating with local doctors, they came up with optimal combinations of medications for specific ailments and preventive care through meticulous research and testing. Speaking of the initial days of operations, she reveals, 
"I began operations within the confines of an existing medical center, working out of a single room."
Soon after, they garnered a loyal client base and were able to open up a network of 21 more centers. The founding team got a dedicated space, which has since become their flagship establishment.
A leg up over the competitors
Elixir Wellness currently offers a comprehensive approach to  IV therapy, cosmetology, body toning, sculpting, nutrigenomics, and wellness therapies.
Since the landscape is already saturated, they have been able to reinforce their position in the market by onboarding accomplished doctors spanning diverse specialties. Currently, they have six doctors on their team, including experts in dermatology, cosmetology, and anti-aging medicine, alongside a dedicated nutritionist and physiotherapist. Tanya further divulges,
"Our network extends to collaborations with oncologists, OBGYNs, endocrinologists, orthopedic doctors, and general practitioners. The hallmark of our approach is the comprehensive evaluation each client undergoes, encompassing their physical state, dietary habits, lifestyle, sleep patterns, and more. We craft recommendations that address all facets of their life, rejecting a narrow focus on any one aspect."
Challenges faced
One of the challenges they still face is finding the right talent for their company who is also able to embrace the culture of the company. Digging through the high volume of applications they receive is a daunting task when some of the candidates lack the basic requirements for the position. 
To address this, Tanya raised hiring standards and implemented comprehensive policies and procedures, including a detailed office policy and handbook. They also focus on ongoing staff training and exercising patience in the selection process, ensuring that they choose candidates who align with both the role and the company ethos. 
"I have learned the importance of exercising patience in the selection process, opting to extend job offers after careful consideration rather than rushing into decisions."
Plans moving forward
Curious about what the future holds for Tanya, we asked her about her plans a few years down the line. She expressed that her major focus will be on quality enhancement in order to maintain the standards they have established up until now. She adds,
"This imperative comes on the heels of our rapid expansion and the recent launch of our flagship facility. There exists a substantial need for education to foster awareness about some of the cutting-edge treatments we offer. Moreover, I am committed to guaranteeing that the uniformity of quality and protocols is upheld across all 21 centers under my purview."
She has also set her sights on expanding beyond Mumbai and Bangalore, especially the Tier 2 cities. 
Lessons learned
Before signing off, Tanya reminds budding entrepreneurs that there will be bad days when they will be made to question themselves and their goals. The key is not to let that self-doubt engulf you. 
"Self-doubt is a companion that occasionally surfaces, accompanied by the pang of missing out on personal time with loved ones due to your all-encompassing dedication to your work. These peaks and valleys are inherent to the entrepreneurial path and are intrinsic to the responsibilities that come with leading a team."
Lastly, she prompts the entrepreneurs to acknowledge the fact that ultimately they may not be able to pursue the first brilliant idea they had, and that's okay. This is why "it's imperative to be open to feedback and willing to alter your course as you embark on your journey."