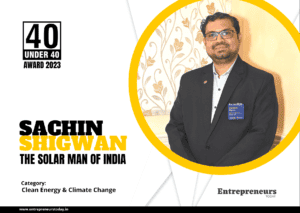 Dr. Sachin Shigwan, known as "The Solar Man of India," boasts a remarkable decade-long career in rural electrification, sustainable energy solutions, Environment-Social-Governance (ESG), and corporate social responsibility (CSR) project execution for leading corporations. 
His unwavering dedication has earned him this illustrious title as he relentlessly pursues his mission to bring solar-powered light to the underprivileged in India.
How it all began
Dr. Sachin's journey towards becoming "The Solar Man of India" commenced during a visit to a rural village as part of a Rotary Club community development initiative. Witnessing students studying under the dim light of kerosene lamps struck a chord with him, evoking childhood nostalgia. He took the initiative to distribute solar-powered lanterns to underprivileged school students, an act that sparked his recognition as "The Solar Man of India" starting in 2009. This revelation spurred the establishment of the Green India Initiative in 2014.
Professionally, he dedicated himself to environmental and educational initiatives, focusing on enhancing educational opportunities for rural school children in India and raising awareness about environmental issues. In August 2014, he founded his social enterprise, Green India Initiative Pvt. Ltd., where he currently serves as the director.
Sachin Shigwan drew inspiration from his mother's teachings and mentor, Deepak Gadhia, known as the "Father of Thermal Solar." His mother's guidance instilled resilience, while his mentor transformed his perspective, steering him towards social entrepreneurship. Motivated by Prime Minister Narendra Modi's initiatives for a self-reliant India, Sachin saw an opportunity to contribute to the nation's growth and development through his business ventures.
About Green India Initiative Pvt. Ltd.
Green India Initiative Pvt. Ltd. (GIIPL) is a for-profit social enterprise that has specialized in rural electrification through renewable energy projects since its inception in 2014. The organization's ambitious goal is to electrify 1000 villages and provide energy access to one million underprivileged rural citizens by 2025. GIIPL aims to be a trusted sustainability partner, offering efficient energy solutions with unwavering dedication to customer satisfaction.
A Unique Approach
To ensure the success of solar power projects in rural areas, GIIPL conducts baseline surveys to identify the energy needs of villages. They engage in discussions with key stakeholders such as school authorities and village council members to prioritize these needs, which may include solar street lights, solar water pumps, and various PV systems.
GIIPL's unique approach involves motivating rural residents to contribute their labor and forming "Solar Friends Groups" to provide them with the skills and knowledge needed to maintain the solar assets. This community involvement ensures that solar projects are owned and sustained by the local community. Funding is sought from donor organizations only when GIIPL is confident that the community is committed to the project's maintenance. To date, they have electrified over 555 villages across India and have become industry experts in implementing sustainable solar projects.
Green India Initiative extends its solar solutions to large-scale commercial projects, residential societies, and educational institutions, reaffirming its commitment to a cleaner, more sustainable future. Driven by a shared vision for India's betterment and environmental well-being, GIIPL collaborates with like-minded individuals and organizations.
What sets them apart?
Green India Initiative, established by Mr. Sachin Shigwan, stands out as a unique player in the solar energy industry by creating a win-win situation for all stakeholders. They eliminate the "Taken for Granted" attitude in CSR projects and foster ownership through a unique "Shram Daan" (sweat equity) approach, fostering a sense of togetherness.
Driven by a profound passion to bring clean, renewable energy to communities, every solar panel they install represents a promise to families dreaming of an energy-abundant future.
The smiles of children in well-lit schools, the eyes that light up on rural pathways, the satisfaction of having pure drinking water – these simple joys inspire "The Solar Man of India" in his mission to electrify 1000 villages.
Green India Initiative sets itself apart by delivering what's best for the beneficiaries, making them a leading social enterprise in India. They offer end-to-end CSR project execution services for corporates, focusing on real solutions for rural India. Their expertise in executing solar energy projects of all sizes is a testament to their effectiveness, timeliness, quality, and impact. Mr. Sachin's role as a social entrepreneur is commendable for his dedication to addressing the challenges faced by rural communities through innovative and sustainable solutions.
Challenges Faced
In the nascent stages of the Green India Initiative, Mr. Sachin Shigwan encountered significant challenges. His groundbreaking vision faced skepticism in a market unfamiliar with his concept. However, with unwavering support from his mother and a friend who believed in his entrepreneurial journey, he persevered.
The corporate sector, where GIIPL aimed to realize its vision and mission, was a tough market to crack without prior experience. Over time, through gradual progress and significant leaps, Mr. Sachin secured numerous CSR projects that contributed to the development of rural India.
In addition to the initial skepticism, evolving government regulations and the disruptions brought about by the COVID-19 pandemic presented additional hurdles. Despite these challenges, Mr. Sachin adeptly managed his business and continued to focus on the welfare of those in need. Over time, both corporates and related stakeholders came to recognize the crucial role of electricity in rural development in India.
Achievements so far
Sachin Shigwan's work has left a significant impact on rural development, the environment, and society at large. Some of the notable achievements include:
Increased adoption of solar energy in India, leading to reduced carbon emissions and air pollution.
Empowerment of rural communities through improved access to electricity, education, healthcare, and economic opportunities.
Awareness campaigns and educational programs that have influenced thousands of individuals to embrace eco-friendly practices and renewable energy.
Recognition and awards for both Green India Initiative and Sachin Shigwan, including accolades from government bodies, sustainability organizations, and media outlets.
For Green India Initiative:
MSME Socio Enterprise 2022 (Delhi) by MSME-Government of India.
Greenpreneur Award – Rural Development 2022 by Vyapaar Jagat.
Recognition in Corporate Social Focus – A CSR Magazine.
Maharashtracha Favourite Brand 2019 by Arthsanket.
For Sachin Shigwan:
Record Holder title from World Book of Record, London.
Record holder title from India World Record.
Social Entrepreneur of The Year 2023 by ADGP Dr. Ravinder Singal (IPS).
Recognition by Earth Day Network Star 2023 on EARTHDAY.ORG.
India's 100 Future Leaders 2023 by Glantor X.
India Icon Awards 2023 by Blindwink.
Recognition by TEDx at TEDx BHIS Kanpur 2022.
Recognition as a Topmost Green Leader (Global) 2022 by World CSR Congress.
Recognition by Sony BBC Earth in 2021.
Recognition as a Sustainability Champion by Sustainable Champion in 2021.
Dr. Shirin Gadhai Sustainability Award 2014 by ICNEER, Baroda.
Professional Citizen Karamveer Puraskar – Advertising 2010 by Icongo, New Delhi.
Future Plans
With a track record of success, Green India Initiative has set ambitious goals for the future. In the next five years, their primary focus is to achieve their mission of electrifying 1000 villages by 2025-2026. Beyond this milestone, they aim to design new missions aligned with sustainable development goals.
In response to market demand, Green India Initiative plans to introduce various new technologies to address livelihood issues. They intend to launch Solar Agarbatti and Solar Dhup Vati making machines, creating innovative livelihood opportunities and enhancing the capacity of underprivileged women in Self Help Groups. These initiatives will be supported through solar mini-off grid installations, contributing to reduced carbon footprint.
Furthermore, Green India Initiative is eyeing the technology of Electric Vehicle Systems. Their goal is to convert EV Stations into fully solar-powered systems, offering significant environmental benefits. This forward-looking approach underlines their commitment to sustainability and innovation.