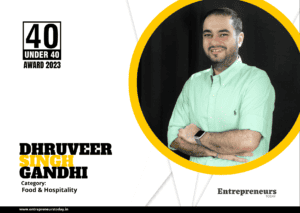 As the owner of Great Punjab, an esteemed culinary establishment steeped in tradition, Dhruveer Singh Gandhi even today carries forward a legacy established by his grandfather, Sardar Trilok Singh Gandhi, back in 1959.
Trained at distinguished institutions including Les Roches Hotel School in Switzerland and the International College of Hotel Management in Australia, his expertise is fortified by a foundation laid at Mayo College, Ajmer. 
Beyond this, Dhruveer has also led marketing and branding initiatives at Cutting Edge Events Pvt. Ltd., a trailblazer in India's sports tourism realm.
With a journey that commenced at the tender age of 18, Dhruveer's multi-faceted involvement reflects a dedication to building something of his own. Dhruveer says,
"The source of my inspiration to join the family restaurant business emerged from the rich traditions and culinary excellence embodied by the Great Punjab. This legacy has endured the test of time. Observing my grandfather's dedication and passion fueled my desire to carry forward his heritage."
While talking about how he came to join Cutting Edge Events, Dhruveer revealed,
"My involvement with Cutting Edge Events was inspired by the pioneering spirit of my mother, Mrs. Dimple Gandhi, and Mr. Mayank Khandwala. Recognizing the potential for growth, I joined forces with them to further develop the business, which is also the only Indian company associated with four FIFA World Cups."
Beyond the Ordinary
Entrepreneurs Today asked Dhruveer about what he believes sets them apart from their competitors in the market. He asserts that both Great Punjab and Cutting Edge Events boast distinctive qualities. 
While Great Punjab's enduring recipes and inviting hospitality blend tradition with innovation, Cutting Edge Events excels not solely as a sports tourism entity, but also as a prominent player in MICE, bespoke luxury travel, and overall travel services. As he notes, 
"Our ability to create personalized, unforgettable experiences for travelers sets us apart."
Emerging stronger than ever
As one would expect, Dhruveer encountered his share of challenges at a time when the world seemed to come to a sudden halt. Amidst the COVID-19 pandemic, Dhruveer encountered industry-specific hurdles that demanded strategic adaptations. The restaurant sector grappled with diminished footfall and on-site dining constraints. Dhruveer reveals,
"We pivoted towards expanding our home delivery services, which were already in place, to reach customers at home."
Concurrently, for Cutting Edge Events, twofold challenges emerged: cultivating market confidence and navigating the pandemic's impact. He further adds,
"We addressed these by fostering partnerships with sports organizations and rapidly diversifying our offerings, including virtual events."
Feats so far
With a journey as dedicated and meaningful as Dhruveer's, both ventures garnered a lot of love from the clients in no time. Upon asking about the yardstick of their success, he says that in Great Punjab, their success is marked by their timeless legacy, loyal customers, steady revenue growth, and culinary renown. 
Meanwhile, Cutting Edge Events gauges achievement in customer satisfaction, revenue increase, industry recognition, and global expansion through partnerships across six countries. Notably, Great Punjab upholds excellence, while Cutting Edge Events stands as the sole Indian entity affiliated with four FIFA World Cups.
Marching ahead
Dhruveer's vision for Great Punjab's trajectory is authentic expansion via franchising, upholding culinary heritage. Simultaneously, at Cutting Edge Events, he shares,
"We want to broaden our sports tourism, MICE, and bespoke luxury travel offerings through strategic partnerships, technology investment, and talent acquisition."
Right now, they are looking forward to a global footprint across six nations, cementing their stature in travel.
Note from Dhruveer to budding entrepreneurs:
"Through both endeavors, I've imbibed the significance of adaptability, perseverance, and customer-centricity. My advice to emerging entrepreneurs is to embrace ancestral legacies while welcoming transformation."
He also encourages entrepreneurs to prioritize evolving customer demands, foster robust teams, and glean wisdom from mentors. Lastly, he notes,
"Challenges mirror prospects for growth, thus have faith in your vision, take calculated risks, and relentlessly pursue excellence. Achievement graces those receptive to learning, adjusting, and perpetuating ancestral heritage."