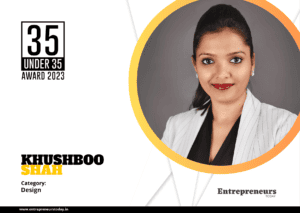 Khushboo Shah, co-founder of The Mark Decor, is reshaping interior design with a unique approach that is far removed from the transient nature of trends. Focused on blending functionality and aesthetics, Khushboo and her all-female team are revolutionizing the industry. 
In a freewheeling chat with Entrepreneurs Today, she walks the team through her method of designing and what goes behind each project. 
With a core belief that is rooted in crafting designs that withstand the test of time, their designs are more than a product of passing trends. When it comes to designing, they are very meticulous about curating the interiors and making sure that there is a touch of elegance to them. It would be an understatement to say that each and every project is sensational.  
Khushboo Shah mentions, 
"Our formula lies in the artful manipulation of neutral, muted color palettes, brought to life by the skilful application of contrast, texture, and patterns."
What Sets Them Apart?
This brings us to the next question on their unique selling point. Khushboo points out,
"My hallmark touch lies in my ability to discern and create unique focal points for every project. I make sure that the captivating elements instantly capture the gaze and elevate the entire space."
It suffices to say that the driving force behind each project she undertakes is client satisfaction and their experience with The Mark Decor. She further adds,
"What sets my interior design business apart and makes it unique is our unwavering commitment to delivering personalized and tailored design solutions that truly reflect the individuality of each client. We firmly believe that no two clients are alike, and therefore, no two design projects should be either."
Starting early
Looking back at how she began her journey, Khushboo reflects that the entrepreneurial journey began when she was 21 when she founded The Mark Decor. She explains,
"I was inspired to start my venture by my passion for creating beautiful and functional spaces. I have always had a keen eye for aesthetics and a deep appreciation for how a well-designed space can enhance people's lives."
It has been 12 years since then, and over the course of her career, she has been able to work on some of the most unique projects. 
With so many successful projects under her belt, she has been able to make a name for herself in Kolkata's interior design landscape. What Khushboo considers to have been pivotal to her journey is her commitment to her venture, combined with her innate capacity to lead and inspire her all-female team.
Projects Undertaken So Far
"With over 5.5 lakh sq. ft of interior work successfully envisioned and executed, my portfolio includes an array of noteworthy projects,"  reveals Khushboo. Some of these are: 
The Kantha Store on Loudon Street.

Sharma Tea, Southern Avenue.

Healthwise Clinic.

Clubhouse of Alcove Flora Fountain, Topsia.

Sankara Nethralaya Lasik Clinic.

Apartments in The 42, Vivara, Swarnamani, Raghu Estate, Aarus, Ideal Exotica.

A Lawyer's Office in a Heritage Building.

A Bungalow in Dhanbad.
Challenges And Feats
It has been a long journey ever since Khushboo began her journey. Khushboo reveals, 
"Building my interior design business has been a rewarding journey, but it hasn't been without its fair share of challenges. The challenges I faced while building my interior design business were opportunities for growth and learning."
She further explained, "By staying adaptable, continually improving my skills, and maintaining a client-centric approach, I've been able to overcome these obstacles and build a successful and fulfilling interior design practice."
With her share of challenges, she has also bagged a lot of achievements along the way. Her feats include: 
Winning the ABID Best Designer Stall Award in 2013.

Getting certified as an Automation Analyst from Leutron, Pennsylvania.

Won Gold Medal from Exterior-Interior Private Limited in 2009.

Nominated for the YFLO Young Achiever Award in the professional category in 2021 and
2022.
Invited as a distinguished panelist at the Design Debate (Aesthetics vs. Economics) hosted by Architect and Interiors India.

Invited as a keynote speaker at Stories to Inspire (Decluttering Spaces), organized by PechaKucha.

Speaker at Ambassador of Hope (Infertility), organized by Sonali's Cubo, WICCI and

Vayjayanti Saharia Pugalia.
Khushboo also spoke at TEDx Mahanagar on October 15, 2023, realizing a long-held dream she passionately manifested years ago.
Future plans
"As an interior designer transitioning into the role of a real estate developer, my future plans and goals are driven by a desire to create holistic, aesthetically pleasing, and functional living spaces from inception to completion."
Her other plans as a real estate developer include staying committed to delivering exceptional projects and creating sustainable living spaces. Khushboo plans to achieve this with research, financial planning, and a dedication to quality.
The ultimate goal is to make a meaningful impact in the real estate industry.
Some More Facts About Khushboo
At times when she is not cooped up with her work, one can find Khushboo indulging in her other interests like reading, meditation, yoga, and various forms of creative arts. Her never-ending wanderlust keeps her on the go. As a result, as she says,
"Travel remains a constant source of inspiration, perpetually fuelling my creative endeavors."
More than just an interior designer, Khushboo is nothing short of a trailblazer in her domain. The projects she undertook and the impact she has been able to create are a testament to that. 
Note from Khushboo:
One of the lessons Khushboo has learned over the years is to have a passion to build and persevere in the face of challenges. 
The journey will be far from easy, but one has to learn continuously along the way. She also emphasizes the importance of time management, branding, and marketing adaptability. Finally, she signs off by reminding the emerging entrepreneurs,
"Pursue your passion with dedication, stay committed to learning and growth, and always put your customers first. Entrepreneurship can be a challenging journey, but it's also incredibly rewarding. Embrace the lessons you learn along the way, and use them to build a business that reflects your values and aspirations. Remember that success often comes to those who are willing to learn, adapt, and persist in the face of adversity."