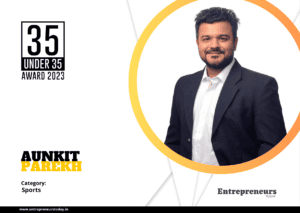 "I saw an opportunity to be a first mover and therefore, I decided to take the plunge and started 9BallsIndia as an online store for Game Tables. However, later we pivoted to being an omni-channel brand, where our warehouse doubled up as a display center for Bengaluru customers but the online store acted as a storefront for rest of India."
Finding a market gap and being one of the very few players is what makes all the difference. During a compelling discussion with Entrepreneurs Today, Aunkit delves into his journey and shares invaluable insights and remarkable milestones achieved along the way.
Aunkit Parekh is a Chartered Accountant and Commerce graduate from St. Xavier's College in Kolkata, India. In 2012, he relocated to Bengaluru (formerly Bangalore) to join PwC India as an indirect tax consultant, gaining valuable experience in the field. However, his passion for entrepreneurship and the world of entertainment and sports led him to explore new opportunities.
Inception of 9BALLSINDIA
In January 2015, Aunkit joined Urban Ladder, a startup focused on furniture and home décor, as part of their Finance team. This experience provided him with exposure to the tech startup ecosystem and an opportunity to delve into various aspects of the business, including finance, online selling, digital marketing, international sourcing, and brand building. During his time at Urban Ladder, Aunkit also had the chance to visit furniture factories, where he acquired knowledge about the intricacies of the woodworks industry.
While on a trip to Goa in mid-2016, Aunkit played poker for the first time on an actual poker table. This experience sparked an idea in his mind – to explore the game tables segment. Recognizing the potential for a modern and organized brand in this market, he embarked on market research to further explore this opportunity. Through his research, Aunkit discovered that the game tables industry in India was largely unorganized, presenting a clear opening for an organized player to establish a strong presence across the country.
Motivated by this realization, Aunkit decided to start his own venture in the game tables industry. Drawing upon his background in finance and his experience in the startup ecosystem, he set out to build a brand that would cater to the Indian market's demand for high-quality, well-designed game tables. His goal was to provide customers with a wide range of options and exceptional customer service, ensuring a memorable gaming experience.
About 9BALLSINDIA
Established by Aunkit in 2016, 9BALLSINDIA aims to become one of the top Indian brands for indoor table games and recreation equipment, comparable to international brands such as Brunswick.
The company specializes in indoor sports and gaming equipment, including Pool/Snooker Tables, Foosball/Soccer Tables, Table Tennis Tables, Air Hockey Tables, Carrom Boards, Chess Tables, Poker/Card Tables, and more.
9BALLSINDIA operates under an omnichannel model, catering to customers across India through their online store in addition to their physical location in Bengaluru. Aunkit says,
"Initially, we tied up with contract manufacturers outside India to produce for us, however, post covid, we have set up our own production team in Bengaluru and are able to provide customized designs to our customers, which has helped grow the business significantly. Further, we have also started exporting our products to customers outside India and are seeing significant interest from international buyers."
Overcoming hurdles
One of the major challenges Aunkit faced was the sudden halt in international supply chains during the Covid period. This had a significant impact on the sourcing side of his business since most of the contract manufacturers were based in China, which was the epicenter of the pandemic. Additionally, there was a notable increase in landing costs for imported products due to disruptions in the supply chain, consistent rises in dollar rates, and higher container freight costs. This situation made it clear that relying on international sourcing and contract manufacturing was no longer a viable or sustainable option.
To overcome this challenge, Aunkit saw an opportunity to establish their own local manufacturing capacity in Bengaluru. By doing so, they were able to sustain and grow their business despite the disruptions caused by the pandemic. This decision not only helped them mitigate the risks associated with global supply chain disruptions but also enabled them to introduce custom-designed tables for customers. Furthermore, the shift to local manufacturing positively impacted profitability by reducing working capital requirements.
Celebrating feats
Aunkit has achieved notable recognition and success in his entrepreneurial journey. He was recognized as one of the 10 Best Leaders in Startups for the year 2023 by Silicon India's Startup City Magazine. This recognition highlights his leadership skills and contributions to the startup ecosystem.
Furthermore, his venture, 9BallsIndia, was acknowledged as one of the 10 Best Sports Startups for 2023 by the same publication. This recognition showcases the impact and potential of his venture in the sports industry.
Apart from these external acknowledgments, Aunkit considers one of his major achievements to be the job creation at the grassroots level. By shifting their manufacturing from China to India, his venture was able to generate numerous local factory-level jobs. This accomplishment holds great significance in a country like India, where job creation is crucial for socioeconomic development. Aunkit finds immense satisfaction in witnessing his idea translate into a tangible business that provides livelihoods to many individuals.
Future plans
When asked about what hold in the future, Aunkit highlights,
"Along with growing local market, we are currently focusing on exporting our products to international markets as well. We have already exported to customers in the Middle East and African countries and aim to expand our international market going ahead. Further, we are also looking at offering OEM solutions to international clients who are looking at moving their sourcing away from China to India."
After the Covid pandemic, there has been a surge in demand for Game Tables for home entertainment among customers. 9BALLSINDIA is concentrating on introducing novel and contemporary designs in all table categories, recognizing the potential for significant growth in this sector due to the increasing popularity of luxury lifestyles and modern homes. 
In addition, the company is focusing on multi-purpose gaming tables that conserve space, such as Pool cum Dining cum Table Tennis Tables, Air Hockey Cum Dining/Table Tennis Tables, and Poker Tables cum Dining Tables. Furthermore, 9BALLSINDIA plans to expand its product line to include Gym Equipment, Kids' Play Equipment, Sports Flooring and Infrastructure Solutions, as well as Arcade/VR Games, in order to offer comprehensive turnkey projects to its real estate, corporate, and hotels/resorts clientele in the future.
Lessons learned
Aunkit has learned that providing the best quality product or service is crucial for building a successful business. Satisfied customers become powerful marketing tools. Additionally, being a successful entrepreneur requires effective selling and communication skills. Knowing how to sell and being a good communicator are essential when dealing with stakeholders. Moreover, identifying one's strengths and leveraging consistent patterns of successful actions increases the odds of success. Persistent hard work and consistency in one's area of strength are key to achieving success in entrepreneurship and life in general.