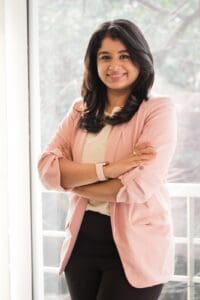 "Since a young age, I have been driven by a strong desire to be a catalyst for change, which led me to pursue a career in marketing."
In a candid interview with Entrepreneurs Today, Raashi Sharma recounts how the desire to bring about change inspired her to set out on her entrepreneurial path and walks us through the nitty gritty of her business at length. 
Head full of dreams
We asked Raashi what inspired her to set out on her entrepreneurial journey. She expresses,
"I decided at the age of 12 that I wanted to bring about a change, which is why I chose marketing as my vocation and founded DigiTalks. It enabled me to discover my passion for bringing about change in the world."
Raashi, a true catalyst, today stands at the forefront of the digital marketing industry. With a bachelor's degree in mass media, a specialization in advertising, and a prestigious master's degree in luxury fashion brand management from the UK, she has so far garnered a profound global perspective and a treasure trove of invaluable insights into the world of brand collaborations. 
Her extensive experience with both national and international clients has allowed her to dive headfirst into the realm of research and development on a grand scale.
It was her drive that led her to shatter limitations not only in terms of geography but also within the realms of marketing ideology. Her illustrious clientele hails from diverse industries scattered across the globe, serving as a testament to her desire to cultivate collaboration throughout the industry. 
Finding a market gap
It all began after Raashi identified a significant gap in the market. She explains that many solopreneurs and small startups struggled to find affordable yet comprehensive digital marketing services that could meet their specific requirements. 
Needless to say, after witnessing this need, Raashi was motivated to bridge the gap and provide a solution.
What followed was an extensive journey of research, learning, and practical experience in the field on her end. With a deep understanding of the transformative power of digital platforms and the challenges faced by businesses, DigiTalks was founded. However, it couldn't have been possible alone. She tells us, 
"With a team of talented professionals who shared the same passion, we developed a range of services covering various aspects of digital marketing. We worked closely with our clients to understand their unique goals and challenges, crafting comprehensive strategies to help them achieve tangible results in the digital realm."
What is DigiTalks all about?
Understanding the crucial role of marketing in today's digital age, DigiTalks specializes in digital marketing strategies and solutions that empower businesses to succeed in the ever-evolving digital landscape. Raashi asserts,
"Our goal is to assist businesses in achieving their marketing objectives and maximizing their online presence. We combine creativity, data-driven insights, and the latest marketing technologies to drive meaningful engagement, increase brand visibility, and ultimately generate measurable results."
What makes DigiTalks stand apart?
Their uniqueness lies in their customized proposals that align with each client's specific objectives, their results-oriented approach that focuses on tangible business growth metrics, and their commitment to creative thinking and innovation. With a strong reputation built on word-of-mouth recommendations from satisfied clients, they deliver outstanding results and exceptional customer service. Raashi also reveals,
"As a female founder, I am passionate about empowering women to follow their ambitions, regardless of their scale. At DigiTalks, we foster an inclusive and supportive environment that encourages diversity and gender equality. We actively seek opportunities to uplift and support women in the digital marketing industry."
While mentioning her views on the work culture in her company, she further added,
"For me, it's not merely about my personal growth but rather fostering a growth mindset for all. I am dedicated to ensuring that my team, clients, and the company as a whole grow collectively, embracing new opportunities and fearlessly experimenting with ideas and creativity."
The result? A thriving ecosystem where everyone can flourish and wholeheartedly embrace a transformation.
Navigating troubled waters
Every entrepreneurial journey is filled with hurdles, and successes do not come as easily. In the interview, Raashi highlighted some of the major challenges she has faced until now. She says, 
"Building DigiTalks came with its fair share of challenges. Initially, establishing credibility and acquiring clients posed a hurdle, but through delivering exceptional results and prioritizing customer satisfaction, we gained positive word-of-mouth recommendations, which significantly contributed to our client base."
Adapting to the rapidly evolving digital landscape and staying ahead of industry trends was also a challenge, so she had to keep up with the latest technologies, platforms, and strategies. 
Celebrating feats
"Goal-setting and decision-making require a clear vision in both life and marketing. My education and experience have provided me with the foundation to thrive."
However, to Raashi, what it means to thrive and be successful is more than just receiving notable awards. Her yardstick of success entails client success stories, industry recognition, client satisfaction, and team growth and expertise. 
Their significant milestones include being recognized as the Prime Insights Business Leader of the Year in 2023. They have also formed strategic partnerships with Mr. Stephen M. R. Covey's masterclass, solidifying their position as experts in the field. Furthermore, DigiTalks has garnered an impressive international clientele, serving businesses in prominent cities such as Sydney, London, Paris, the USA, Canada, India, and the UAE.
A bright future ahead
We asked Raashi what her plans are moving forward, and for now, she has her eyes set on being at the forefront of industry trends and bringing about transformative change for businesses and their online presence.
As per their future plans, they also aim to keep pushing their limits and creating a collaborative space for both clients and agencies. 
Additionally, they intend to prioritize mental well-being and work-life balance, both within their team and for their clients. Raashi explains the importance of mental wellness and its significance for creative output and overall well-being. She believes that maintaining a balanced mind is crucial, as it affects both one's inner and outer worlds. On the same note, she adds, 
"When people are at peace mentally, they tend to be more creative, productive, and adopt a growth mindset. In my company, mental wellness is a top priority. Every Saturday, the company organizes mental well-being activities and provides one-on-one sessions. It is highly prioritized within the agency's culture to actively incorporate mental wellness practices."
Words of wisdom
One takeaway from Raashi's journey is that there will be ups and downs in life, but consistency and persistence are key. She understands the importance of being resilient and facing challenges head-on, while also learning from them. If something repeatedly goes wrong, she emphasizes the need to reflect on the reasons behind it and seek assistance if necessary.
She also highlighted the significance of realizing when help is needed and being open to asking for it. She believes that there is no shame in acknowledging the need for support and actively reaching out to others for guidance or collaboration. She encourages a collaborative mindset, understanding that there are professionals and experts available who can offer their assistance when required.
Continual learning is another aspect that Raashi has embraced. She emphasizes the importance of constantly expanding one's knowledge and skills. Taking classes, pursuing personal development opportunities, and broadening one's expertise can prove invaluable in finding solutions to problems and navigating various situations. Raashi believes that one never knows when a particular piece of knowledge or skill may come in handy, making continuous learning an essential aspect of personal and professional growth. 
Raashi signs off by reminding the budding entrepreneurs,
"Entrepreneurship is a journey, and every step, including the challenges and failures, contributes to your growth and success. Stay committed, persevere, and make a positive impact in the world through your entrepreneurial endeavors".
Read more: DR Trinetra Haldar Gummaraju's Journey into Becoming Herself