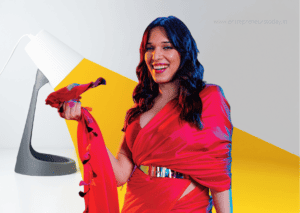 Cover Story: DR Trinetra Haldar Gummaraju
How do you become yourself?
A strange question, that DR Trinetra Haldar Gummaraju nonetheless had to contend with for the majority of her life.
Assigned male at birth, Trinetra was very aware of her mismatched gender from the very beginning of her life, gravitating towards lipsticks and saris, expressing herself with the things at hand.
The early years of her life were not easy. She struggled with familial pressure to conform to her assigned gender's expectations. Her being was at odds with her appearance, and that dissonance drove her to self harm.
Initially she contended with her attraction to men, and came out as homosexual during her high school years. That exacerbated the name calling and abuse that she was already facing from her peers and teachers. They harassed her physically and mentally, driving her deeper into isolation and depression.
But she was able to channelize her energy and frustration into her studies. Inspired by DR Christina Lang from Grey's Anatomy, and majorly crushing on DR Derek Mcdreamy Shepherd himself, she was finally able to join an MBBS degree.
Acceptance and Transition
While societal ridicule is a thing to contend with throughout the life of queer people, there is a deeper internal journey of realization that is more important.
DR Trinetra realised her gender identity in the early days of her college life, and came out briefly on social media. But it was her mother's subsequent, unquestioning acceptance of this reality that convinced her to begin the process of transition.
At 21 years of age, she went through her gender affirmation surgery, and documented the process through her YouTube channel, The Trinetra Method.
Trinetra has found success and acceptance as vlogger, making the complexities of gendered existence a accessible to a new generation of people.
Impact
As the first out and proud transgender doctor in Karnataka, Trinetra's cultural influence can hardly be overstated. She is currently working as an intern in Kasturba Medical Hospital.
Her social media following is nothing to scoff at either, with 226k Instagram followers and 14k YouTube subscribers, who are illuminated by her knowledge and inspired by her courage.
Despite this massive following, she maintains that content creation wasn't a conscious choice. It was just a space she had found to express herself freely. After a lifetime of repression, the online space had freed her spirit, allowing her to express her emotions much more openly, away from the immediate backlash our everyday society is so ready to bail out towards people who do not fit in.
2022 is looking to be good year for DR Trinetra Haldar Gummaraju. While she plans to continue her work as a doctor and content creator, the wider world is slowly, but surely, recognizing her contribution to its evolution of values. Along with being featured in Forbes India's 30 under 30 list of individuals, she is also set to make her acting debut this year, for which she expresses a giddy amount of enthusiasm.
Trinetra's journey is one of hope, and her bright and cheerful persona radiates that feeling.
Here's hoping she finds the happiness she clearly deserves.