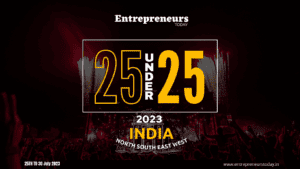 Nominate yourself for the coveted Entrepreneurs Today 25 Under 25 list and discover the Class of 2023. If you're an exceptional entrepreneur or professional, seize this opportunity to showcase your achievements. However, before you proceed, please note the following:
Nominees must be under 25 years of age on Dec 31, 2023, regardless of whether they are entrepreneurs or professionals.
Nominees must answer all the questions in the nomination form, and incomplete forms will not be accepted. If a question is not applicable, please indicate "non-applicable." The Entrepreneurs Today editorial team may request additional information from shortlisted nominees.
Entrepreneurs must provide proof of age by submitting their Aadhaar or PAN card details. These details will only be shared with the editorial team to confirm the nominee's birth date and application.
Nominees cannot edit their responses once submitted, so please ensure that all information is accurate and complete before submitting the form.
To nominate yourself, please fill out this Google Form:
If you are an exceptional professional, click here
If you are an exceptional entrepreneur, click here
The Entrepreneurs Today 25 Under 25, Class of 2023 spans a wide range of categories, including:
1) Advertising, Marketing & Media
2) Agritech
3) Art
4) Climate Change & Clean Energy
5) Consumer Tech
6) Design
7) Digital Content Creators
8) E-commerce & Retail
9) Education
10) Enterprise Technology
11) Entertainment
12) Fashion
13) Finance
14) Food & Hospitality
15) Health Care
16) Industry, Manufacturing & Energy
17) Music
18) NGOs & Social Entrepreneurship
19) Science & Deep Tech
20) Sports
21) Cryptotech – NEW!
22) Real-estate
Nominations will close on Jun 30, 2023, at 11:59 pm. We look forward to discovering the Entrepreneurs Today 25 Under 25 Class of 2023.