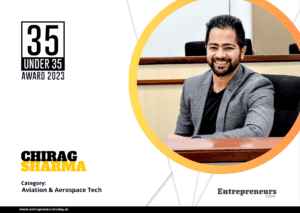 "The combined push and the government's desire to proliferate drone adoption led to a very progressive new drone policy in the form of Drone Rules, 2021, which opened up the Indian airspace and declared more than 90% of the country's airspace as green. As a result, drone operators across the country can now fly their DGCA-approved drones freely without any permissions in over 90% of the country."
In a conversation with Entrepreneurs Today, Chirag walks us through the evolving trends in the proliferating drone eco-system. He highlights that "over the last two years, several key initiatives by the Indian Government including release of a liberal drone policy, opening up of India's airspace for drone flying, ban on imports of drones, PLI scheme to incentivize Indian Drone Manufacturing, and implementation of large-scale "Kisan Drone" and "Drone Shakti" schemes have propelled Drones into a Sunrise sector. "
Chirag Sharma, founder of Drone Destination, is an accomplished professional with a diverse background in entrepreneurship and business development. He holds an MBA from ISB Hyderabad and a Computer Science & Mathematics degree from the University of California. 
He has 10 + years of professional and entrepreneurial experience spanning across North America, UAE and India, and developed and led a few successful Aviation business verticals offering Air Charter, Ground Handling, Training and Charter Brokerage Marketplace services etc. 
India's Premier Drone Company
Drone Destination is a pioneering drone company based in India that offers a range of services related to drone technology. The company is the first and foremost DGCA-authorised Drone Training Organization in India under the new Drone Rules 2021. It is focused on developing an integrated drone ecosystem that includes education, training, recreation, drone services, and rent-a-drone facilities.
With its headquarters in New Delhi, Drone Destination boasts a highly experienced team of aviation and drone experts with over 350 years of combined experience. The company established India's first exclusive Drone Training Site at its 07-acre integrated Drone Hub in Manesar, Gurugram.
The inspiration behind founding Drone Destination was the family's extensive experience in the aviation sector and their recognition of the potential of unmanned aerial vehicles and drones in the future of aviation. They identified an opportunity to enter as a mainstream business player in a relatively unorganized drone industry, which was primarily composed of startups and companies in the R&D stage. As a result, they established Hubblefly Technologies, one of India's first government-approved drone manufacturing companies in 2020, and later became one of India's first DGCA-authorised drone training and service companies under the name, Drone Destination.
Drone Destination's Comprehensive Training and Service Solutions
Drone Destination is poised to train more than 10,000 pilots over the next three years and has already become NSDC's first Drone Training Partner. The company is offering DGCA-certified drone training programs and several application-based courses in domains of Survey & Mapping, Agriculture Spray, Asset Inspection, among others.
Drone Destination has also entered the Drone Services business and executed the largest rollout of Drone Teams in a single day for Abadi and Large-scale Mapping projects under Prime Minister Svamitva Yojana, a scheme by the Ministry of Rural Development, to map 6,50,000+ villages in India and create Digital Property Cards for landowners. The company has deployed over 50 drone pilots and co-pilots who are conducting drone surveys in the states of Uttar Pradesh, Gujarat, and Karnataka and aims to survey about 20% of the work allotted under the current scheme over the next two years.
The company also offers Drone Surveillance services to the Excise Department in the state of Bihar. In July 2023, Drone Destination will be launching a new service focused on Agriculture Spray and Crop Insurance with a large fleet of Precision Agriculture Drones.
How Drone Destination Soars Above the Competition
Drone Destination has uniquely developed an integrated drone ecosystem that includes certified training, drone-as-a-service, drone rentals and manufacturing support with the help of its sister-concern, Hubblefly Technologies. This comprehensive approach enables them to offer a wider range of cost-effective, turnkey solutions to the clients.
Drone Destination is the only drone service company in India that owns a fleet of assets, including drones and their parts, base stations, service delivery vehicles, and also has certified pilots on Company payroll. Such internal competencies ensure they have complete control over their supply chain and can offer faster turn-around times for drone service and training operations.
Navigating hurdles
Drone Destination encountered significant challenges in developing its business due to the newness of the drone industry in 2018 and the lack of benchmarks for regulators, policymakers, and end-users. Safety and security concerns were also a significant obstacle, with more than 80% of Indian airspace designated as a Red Zone before the release of the Airspace Maps in 2021. Additionally, the industry was plagued by the smuggling of illegal, non-certified drones and a shortage of certified and skilled manpower. However, as an early mover in the industry, Drone Destination was able to share its experience with regulators and push for reforms, resulting in more favourable policies for the sector.
Major Milestones
Drone Destination has achieved several significant milestones in the drone industry. 
Since its inception, the company has trained a record number of Drone Pilots and Instructors in India and has become the first organisation to certify over 1000 DGCA-approved Drone Pilots (Indian Drone Force) across 10 cities. This remarkable achievement was accomplished through partnerships with Indira Gandhi Rashtriya Uran Akademi (IGRUA), the only Flight Training Organisation (FTO) in India under the Ministry of Civil Aviation, and Sanskardham. They have also expanded their services to include drone surveying and mapping projects, executing the largest rollout of drone teams in a single day to execute Abadi and Large-scale Mapping projects under PM Svamitva Yojana. Additionally, they have tied up with IIT Patna to open Bihar's first DGCA-authorized drone training centre of excellence.
Drone Destination has also become NSDC's first drone training partner and aims to open ten drone hubs in joint collaboration. They have signed an MOU with India's largest fertilizer manufacturing company, IFFCO, to train and develop drone entrepreneurs in all states on the usage of agricultural drones and have established a DGCA-authorized RPTO at IFFCO's Phulpur Manufacturing Unit to propel Kisan Drone Training.
A Bright Future Ahead
Drone Destination plans to introduce two new verticals in the near future. The first one is Rent a Drone, in which the company aims to develop the largest network of Drone Hubs and offer Rent Drone services along with their certified Indian Drone Force. To optimize asset utilization, an integrated app consisting of features such as Drone Fleet & field force management, Demand aggregation and scheduling, Job/ service mapping, and Service Delivery Reporting modules etc. is being developed. The company plans to set up 150+ Drone Hubs across India in the next 5 years.
The second vertical is Agricultural Services, in which Drone Destination plans to deploy a large fleet of agriculture drones to provide specialized agriculture drone services such as crop health assessment, soil analysis, yield management, crop insurance survey, and drone spray. These services will be offered pan-India via an extensive network of Drone Hubs and Stores, including company-owned and operated hubs as well as those belonging to Partner Fertilizer and Agrochemical companies, Farmer Producer Organisations (FPOs), etc.
The company is excited about the growth of the drone sector, and confident of being a lead player in making India a Global Drone Hub by 2030.