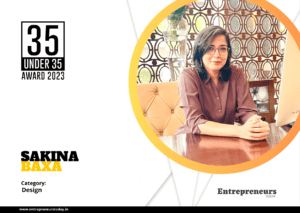 "Bangalore has a huge scope for the interior design industry, and there is something for everyone. I believe that today we see a more positive and collaborative approach among design firms, especially studio owners. It might sound cliché, but we do not compete with others; we are trying to up our game every single day."
In a conversation with Entrepreneurs Today, Sakina Baxa highlights the changing scenario of the Indian interior design industry and how she manages to make a name for herself in the field. Let's take a look at her journey so far.
A Journey of Creativity and Innovation
Sakina Baxa is adventurous, ambitious, and passionate about exploring new opportunities and ventures. She is the founder of Blend of Trends, a company that operates two channels: Bespoke Havens and Femme Fashion. Bespoke Havens focuses on creating aesthetically pleasing and functional spaces for homes and commercial areas, while Femme Fashion offers affordable and trendy fashion for women and has been in operation for 13 years.
Sakina's company, Bespoke Havens, based in Bangalore, strives to create a balance between comfort, functionality, and art, resulting in visually stunning and inviting spaces. With her creativity and passion for design, Sakina aims to positively impact the lives of her clients through her work.
When asked about what sets them apart from the competitors, Sakina says, "We take our projects very seriously, whether it is a low-budget or generous-budget project. We are transparent about what we provide, taking the customer's style, preferences, and budget into consideration. We are open to exploring their views and ideas, not just doing what works out easiest for us. It's all about making their lives easier!"
Getting Started as an Entrepreneur
Sakina's entrepreneurial background, her passion for fashion, and her experience in corporate marketing inspired her to start her own businesses. She completed her business graduation from Ethiraj College in Chennai, where she received a job offer in a prestigious firm. However, having grown up in an entrepreneurial family, she knew that she wanted to start her own business. In 2010, she started a home-based fashion business called Blend of Trends, which is now successfully running online as Femme Fashion by Blend of Trends.
During the pandemic, Sakina's childhood passion for interior design got the better of her while she was designing her own home. She took up a formal interior designing course, explored the market, and tied up with small and big vendors to provide premium products to customers. Soon after, word of mouth helped her get started, and references from satisfied customers helped her grow. She built her team with experienced carpenters, laborers, draftsmen, and designers, and now they are dedicated to providing functional and enthralling interior solutions to their clients.
On another note, Sakina notes the risks she encountered in her journey. She says, "Risk is inevitable in any business. By being aware of it, by consulting the right people, it can be mitigated. Sometimes not everything works, there are failures in terms of vendor or labor management, or price hikes of products. But knowing this and keeping a buffer and backup always helps."
As we can tell, her journey was far from a cakewalk. Sakina highlights,
"Like any other business, finding customers, making them believe in what you offer, and above all, retaining them has been the most challenging and exciting part of our work. In today's market, with a myriad of options available, you cannot fool anyone into buying what you offer. Honesty and transparency win them over. Apart from that, finding the right vendors and labor to execute your projects in a timely and perfect manner has been a daunting yet fruitful experience. No matter how extraordinary your design ideas are, they are of no use if you do not have the right people to implement them. Retaining them by providing fair compensation and showing empathy for their problems helps them stay with you and give their best."
Living by her core values, Sakina has for sure etched a name for herself. She further adds,
"After 13 years of being in business, I feel there is a long way to go and I will say this even after 3 decades. Success to me is happy clients who love your work, speak well about you to others, and remember you when they talk about their home journey. That being said, who wouldn't love some recognition now and then, such as being awarded and featured in Femme Times Magazine as one of the Super 30 Women, The Success Today Magazine, Glorious India Magazine and HerStory Times."
Future Plans and Lessons Learned
Sakina's future plan is to open a substantial experience centre for her prospective clients. The centre will showcase the best-in-class technology and aesthetics that can be incorporated into their spaces, and demonstrate the value of money they will receive when they work with her.
A lesson she has learned is that "There is absolutely no shortcut to success. Hard work and, more importantly, smart work is very crucial. To budding entrepreneurs, I'd say, 'never shy away from asking or learning something new, never be afraid of taking risks, and when you feel it's your calling, take the plunge and venture out because the time to try is NOW!'"