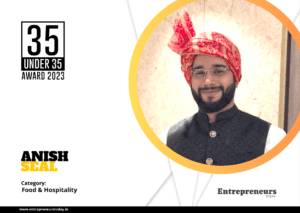 Over time, the Indian F&B industry has grappled with adopting advanced procedures and technology. The impact of Covid-19 was significant, resulting in the closure of around 40% of organized sector restaurants in Tier 1 cities alone. Presently, a considerable portion, approximately 75%, of commercial kitchens continue to face underutilization.
This is where BTR Kitchen Co. excels – Rapidly scaling its consumer brand footprint while benefiting existing F&B service businesses. They partner with underutilized commercial kitchens, setting up tech-driven assembly pods. By offering their brand as a service to these businesses, they can serve hyperlocal consumer clusters, while generating extra revenue for their kitchen partners at no additional cost.
Entrepreneurs Today had the pleasure of catching up with the visionary Anish Seal, delving deep into the story behind his journey as an entrepreneur.
 From Chef to Business Maverick 
Anish is a man of unyielding curiosity, boundless empathy, and unbridled passion. He believes that every aspect of an ecosystem must come together in perfect harmony to create value. With extensive professional experience in the food and beverage industry, Anish has built multiple businesses from the ground up over the past six years.
He launched India's first reliable liquor delivery service, worked closely with hundreds of F&B restaurant owners to help them grow their businesses, and served as a product manager for developing solutions for D2C businesses in India.
Finding Solutions and Creating an Impact
Anish leveraged his experience to identify opportunities and develop solutions for the Indian F&B service industry and is committed to addressing critical issues faced by both merchants and consumers. Committed to addressing the industry's challenges, he strives to revolutionize it through innovation. Anish says,
"We're India's first virtual QSR, offering affordable gourmet food delivery within minutes of ordering. When it comes to scaling consistent quick delivery, the only brand that comes to the Indian consumers' minds is Domino's…They have achieved this by owning their supply chain and last mile logistics. Being a startup, we have to be more capital efficient. Our proprietary operating systems, integrated technology and value led business model, allows us to deliver consistent results while keeping our investments low."
Using their efficient operating systems, BTR Kitchen Co.'s kitchen partners can prepare and dispatch orders within five minutes, earning commissions for each order. With operational and branding costs covered by the company, it provides struggling F&B businesses with a hassle-free opportunity to earn money and grow alongside the company.
Anish envisions intelligent ecosystems creating value across the food service industry. He mentions that with the current shift in consumer behavior, high-selling chain F&B service brands will drive growth. Brand affinity is on the rise, especially after the pandemic, with consumers increasingly drawn to well-known brands. The organized food service market is currently at 40% but is expected to reach 53% by 2025. Anish explains,

"We provide a way for small and new business owners to become a part of a high-growth chain ecosystem within an organized structure without having to pay high costs of capital and facing a high barrier to entry. On the demand side, there has been a shift in consumer demand behavior, showing a rise in aspirational levels and preferences for known brands and gourmet food in the millennial mindset. This is about 34% of the Indian population, which is the highest in the world, and also our target group of consumers."
Breaking Barriers 
On a personal note, although it was difficult to leave behind the structure and comfort of a job, his passion to build impactful solutions led him to the exhilarating journey of building a startup. In terms of the business, he adds,
"Our processes rely on precise instruments and automation, minimizing our dependence on manual labor and enhancing efficiency and consistency. Getting these machines made in an affordable way is something we have struggled with. Since we want to be a homegrown brand,it's a challenge to get these custom engineered affordably "
Plans Ahead
When asked about the future plans, Anish says, "We are launching our MVP, but we sandbox tested our CVP earlier to see how the end consumers perceive our product and received a lot of consumer love…  We operate in a category where there is a demand-supply gap and high repeat propensity, and we saw an opportunity to fill the gap. Currently, we are launching an enhanced version of these products with better operating systems and a value generating business model."
BTR Kitchen Co. has ambitious plans for the future, including expanding their network to 800+ hyperlocal kitchen partners in the top 10 cities of India by mid-2026. They are dedicated to creating convenient solutions for businesses and consumers in the Indian food service industry.
Dedicated to meeting customer expectations with products focused on innovation, reliability and speed, they prioritize customer needs and strive to be closely connected to them. Additionally, they are committed to solving operational problems for struggling restaurants, beginning with EBDITA optimization and gradually addressing other core challenges.
Lessons learned
Anish emphasizes creating a value-based ecosystem and building products and businesses around the core of user problems and requirements. Anish also suggests that businesses should keep seeking user feedback. He asserts that many businesses and growth phase startups work in isolated charters, leading to diffused execution of the vision and conflicts in the interests of the multiple stakeholders. Rather, the objectives of individual charters should be built such that they harmonize with each other's goals, co-exist and continually meet the business requirements. 
According to Anish, the core of any business is the users, not the founders – Businesses should build solutions around the core of targeted user personas without being biased by the views and experiences of the founders alone. Anish also notes that the most successful and scalable businesses outlive their founders and their solutions. Anish also believes that instilling values within the business and team can help realize the vision in the long run.