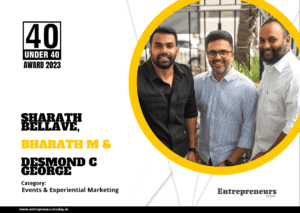 Given the buzz that Distinct Communications Pvt. Ltd. is creating in the event management industry, Entrepreneurs Today found it imperative to reach out to the founders for an exclusive insider perspective.
Founded 13 years ago, the experiential management agency Distinct Communications Pvt. Ltd., headquartered in Bengaluru, has expanded its operations throughout India and undertaken projects worldwide. 
Notably, the agency is diversifying its services and entering the global concert curation arena for Indian artists. The company is led by three directors: Sharath Bellave, Bharath M, and Desmond C George.
The founding trio, hailing from the diverse stages of the entertainment industry, leveraged their experiences to forge a unique perspective on experiential management. 
Their journey led them to establish a distinct niche, setting Bengaluru on the map not only for its tech and startups but also for its creative excellence in the realm of brand communication.
The inception
Their inspiration for launching Distinct Communications Pvt. Ltd. stemmed from the desire to enhance brand communication through creative storytelling. What began as a casual conversation over milkshakes evolved into one of the nation's prominent experiential firms. 
Their unwavering focus on delivering exceptional work, rather than immediate financial gains, remained at the core of their journey, with profits and revenue growth emerging as natural by-products of their dedication and passion.
Speaking of what sets them apart, the team says, 
"We have always believed in partnerships. We always become an extended arm of the brand. This enables us to stay ahead of the competition and also gives us the edge we need to narrate a more impactful story."
Navigating challenges and celebrations
Setting up a business comes with its own set of problems. The team divulges that one of their significant challenges lies in navigating the unorganized nature of their industry in the country. 
Balancing the need for fair pricing while justifying the exceptional effort they invest in their work has been a persistent obstacle. Sharath Bellave asserts,  
"We are magicians, and the effort we put in is unparalleled. To sell yourself short for the sake of doing business is not a story you would want to tell for generations."
 Despite the challenges, they have come a long way. With a clientele that includes Fortune 500 companies and an impressive 60% client retention rate, the company has consistently achieved a year-over-year growth of nearly 15%. 
They strongly believe that work speaks for itself. This is why they prioritize the quality and impact of their work. Desmond remarks, 
"In my opinion, the clients who show you off to the world are your biggest success story." 
Future plans
Bharath believies that "Staying relevant and always improving is the core of growth. Larger-than-life thinking only gets you to the first step."
Their business has evolved from corporate engagements to concert curation, and they intend to broaden their services by aiding in brand development from the ground up and increasing their involvement in employee engagement. 
Their strong belief in the "Power of People" will guide their ongoing expansion in this direction.
Note to budding entrepreneurs:
Before signing off, they emphasize the essentials of making a business a hit, and how to leave a #impact&impression. 
They say, "Consistency, Patience, Innovation and Perseverance are the keys. Business is not rocket science, fix the fundamentals, be truthful, and don't let greed take over the wheel. DC has always believed in this and will continue to do so."